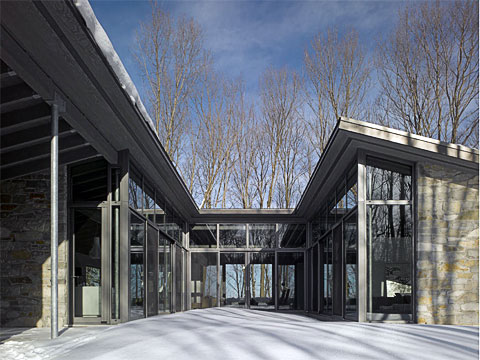 I would like to share with you today this large yet modestly beautiful family home in Bromont, Canada. This 3,925 sq. ft. house consists of 2 blocks: as I usually call them – an active area (dining, living, kitchen, lounge, library, etc.) and a quiet zone (bedrooms and bathrooms).
The active block is a one-story, U-shaped structure, which forms a courtyard inside. This volume has a one-pitched roof that inclines towards the outer walls of the house. The walls, overlooking the inner yard, are fully glazed and have sliding doors. So, as a result of the U-shaped volume and its human scale (rather low and narrow), a cozy yet modern family home with a friendly courtyard and inviting interiors are created.
Such an impression is strengthened by other factors, the mightiest of which – in my opinion – is the exposed wooden rafters of the roof, painted elegant grey and distributed with a frequent pitch. Moreover, owing to them the scale of the house seems to be even more homy and modest. Their stylish grey color corresponds to the grey window sashes and grey floors, whereas the walls are left white. This makes the interior design rustic yet refined.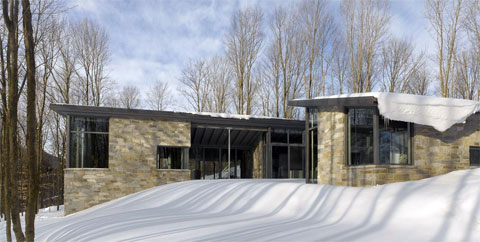 In good weather, the courtyard serves as an additional room of the house (even more so, taking into consideration that one can optionally use the yard to get from one wing of the U-volume to another). The outer side of the walls are covered with stone, as the brown-greyish shades of which accord perfectly with the color of the roof structure.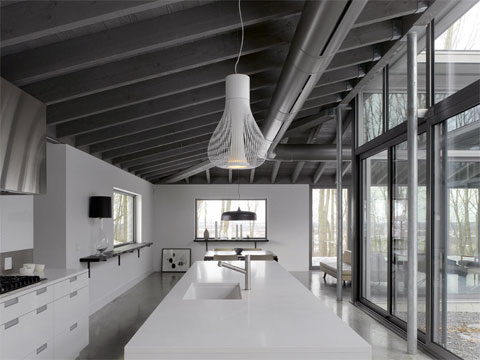 The terrace, which separates the active U-block from the master bedroom area, is limited by such walls and covered by the same roof with exposed rafters as described above, which turns the terrace into another cozy place for this lucky family to spent their time together.