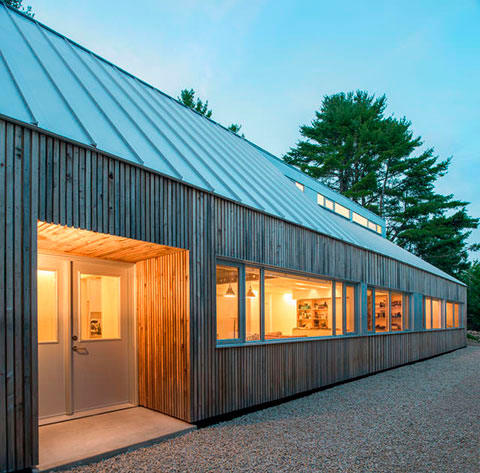 Architecture is a useful tool when it comes to turn old lifestyles into a concrete reality…In Hubbars, Canada, an elderly couple has its youthful artist ambitions recovered in a small building called the Moore Studio! An inspirational platform where their artistic aspirations can grow once again, and also a quiet place for the couple to enjoy the surrounding landscape with their dogs, fully released from the stress of city life.
Landscape, program and clients dominate the creative process of this lovely piece of contemporary architecture. In order to merge in such a natural environment, a vernacular form was properly rediscovered: a pitched roof shelters a two story building full of surprises but yet discrete in volume and shape.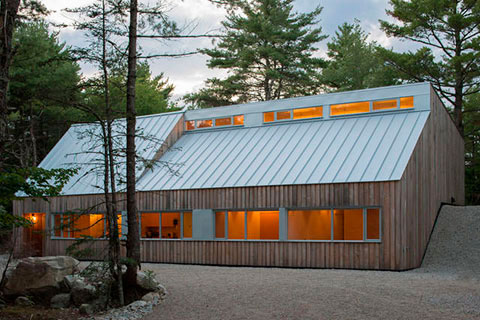 A constructed area of 140 sq. m. is cleverly disposed on the side of a natural hill: the upper level has two connectable rooms (clean and raw studios) reserved for artistic activities. All the domestic program is positioned on the ground floor: an entry porch gives access to the hall, a double-height kitchen and dining room is also connected with the living area.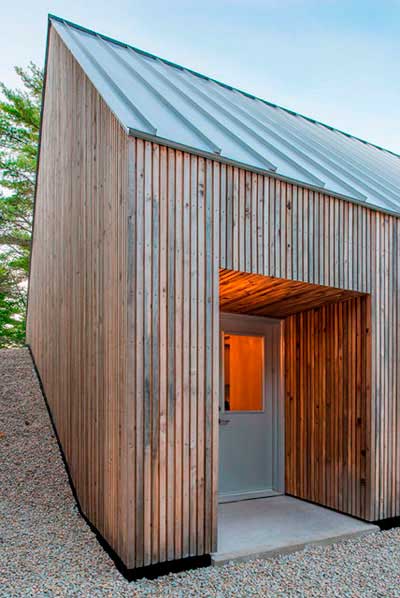 Two bedrooms complete the main facade while service rooms are placed in the opposite one. An interior staircase establishes the connection between the two different worlds: the artistic and the domestic. Exterior walls are clad in soft wood while aluminum roofing protects the house against heavy weather.
The interior walls, floors and ceilings are made of plywood and OSB. Along the main facade, a continuous horizontal strip of windows offers a panoramic view of the property. Suddenly, I sense that a strong poetic feeling is unleashed whenever the sun starts to rise in Moore Studio…