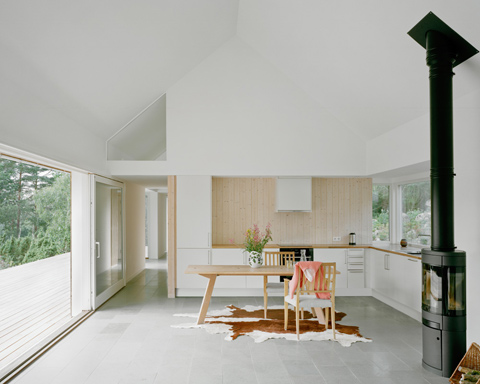 The concept of tradition in architecture is often related to a basic character of a society still maintained in the present, with origins in the past. Preserving is always a difficult challenge for architects, especially in modern times. Difficult, but not impossible… and Summer House can prove it in a very efficient way.
This holiday cabin is positioned in Bohuslan, Sweden near the western seafront. A traditional Swedish farm house worked as the starting point to obtain a contemporary intersection between this ancient typology and the modern needs of living.
The building presents a gabled roof and overhanging eaves, which clearly reference the traditional local architecture. Also the distribution of the program reinforces the shape of the old farm house: a large living and dining room with kitchen is located at one end of the house and has sliding glass walls that open it out to a surrounding wooden deck.
The private zone is positioned on the opposite side of the building, where a bedroom suite assures the necessary privacy. The entrance area (along with a toilet and a small stair that gives access to a lofted area) divides communal areas from the private ones.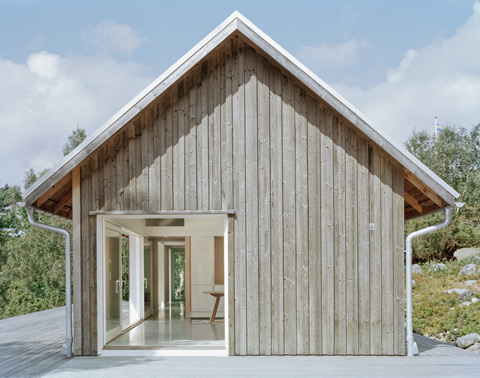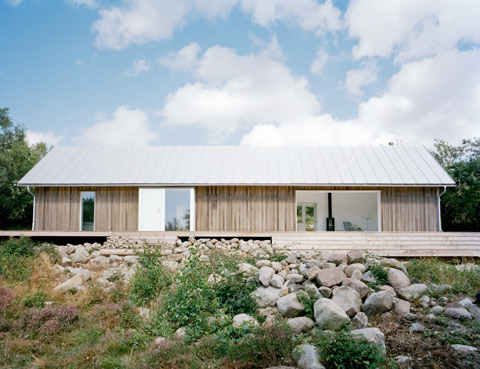 Summer House has its facades clad with untreated timber respecting the surrounding woodland. This clever option provides a tactile quality to the whole building that eventually will fade to grey as time passes… A close contact with nature is automatically guaranteed. The interior atmosphere reserves all its serenity and protection to the white color. Tradition, Nature and Architecture seem to be perfectly blended in this tiny getaway cabin in Sweden.