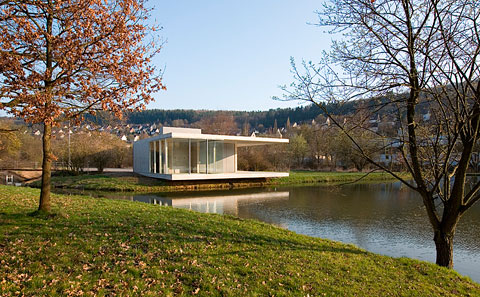 Weekend retreats are always a good opportunity to embrace innovative solutions in architecture… A small program usually stands as the main purpose behind this fine chance to achieve beauty and comfort. Pavilion Seigen works as a weekend fishing retreat that hangs quietly over the edge of a lake in Siegen, Germany.
No bedrooms, no kitchen, no living or dining room, just a place conceived exclusively for fishing activities. Kind of unusual, don't you agree?
But let's get in touch with this small temple that seems to be floating over the lake.
The building is composed by a cantilevered base and roof (built in exposed concrete) that extend six meters across the surface of the lake, creating a sheltered terrace where the owner can set up his fishing equipment.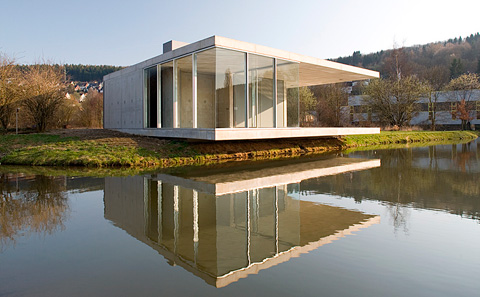 The program is quite simple: a garage space, a storage room and a small toilet are disposed in the single floor plan. However, the volume of this modern pavilion reveals an original approach to the relation between architecture and its surroundings: while glazed openings overlook the water at the front of the building, large square panels fold away from the rear facade, revealing the garage space with a surprising area capable of storing three cars!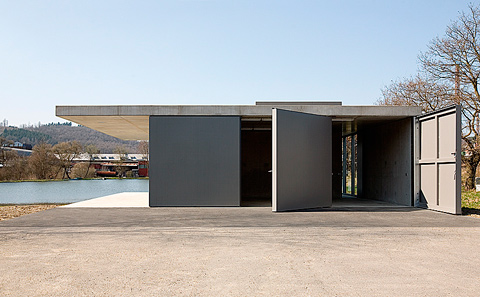 Concrete walls and ceiling were built in-situ offering a mineral appearance to the construction…in such a way that the lake seems to be totally undisturbed by its presence. In fact, a discrete reflection of Pavilion Siegen is softly revealed by the water, proving nature's approval to another fine example of exquisite architecture!