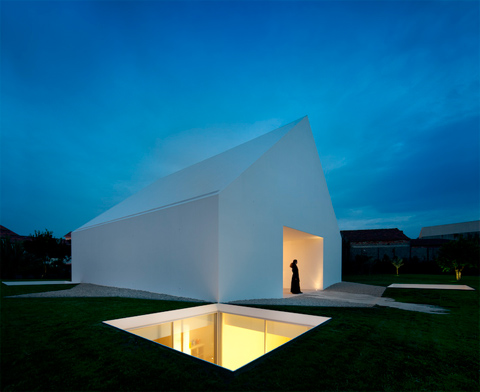 Minimalism in architecture sets out to expose the essence or identity of a subject through eliminating all non-essential forms, features or concepts. This major goal is achieved when the simplest and fewest elements are used to create the maximum effect.
House in Leiria couldn't be more faithful to such noble ideals… A pure white volume reflects all the serenity and clarity of a modern house. However, its shape and scale remind us a bit of the traditional pitched roof housing archetype. A tricky question arises from this peculiar mix of different ingredients: how does House in Leiria really work?
The site is located in Leiria, Portugal in an elevated position overlooking the city. The composition of the program is quite similar to all conventional houses: the residence is divided in private zones and social areas.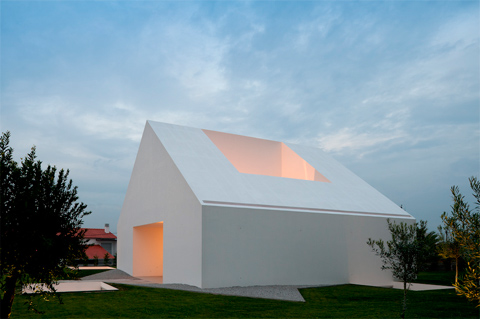 Private areas are placed at street level around a central patio with rooms opening to private patios, providing a full sense of intimacy. Whereas living rooms are positioned around an interior patio that assembles light from above and fix our attention on Leiria's Castle at the city center.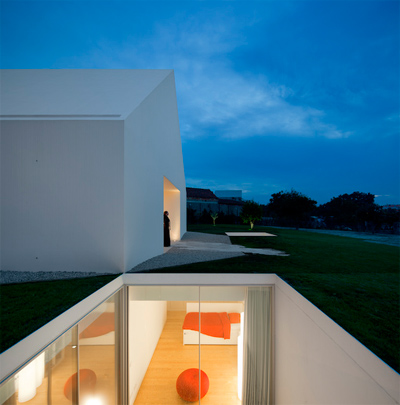 White painted surfaces reinforce the minimal approach given to this project, contrasting with the wooden pavement of the interior and patio decks. Only green breaks this color palette in the form of a minimal grassy garden that discretely surrounds the entire building.