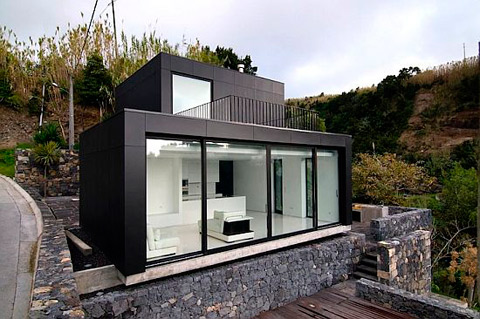 Let us turn our attention to an interesting project that deals with blending old and new. Here, the architects decided that the most important thing about the project is preserving the identity of the plot: the project site is situated on a rather steep slope, overlooking the village and the ocean. This marvelous place is situated on the Azores Islands (Lugar da Ribeira da Praia), which already by itself gives it a unique identity.
The main challenge of this project was preserving an old building's ruins which already occupied the site. The remains of walls of big scaled stone masonry together with the privileged location on the slope amidst interesting vegetation (high grasses, bushes, etc.) give the area this very precious identity, which the architects tried to develop as well as preserve.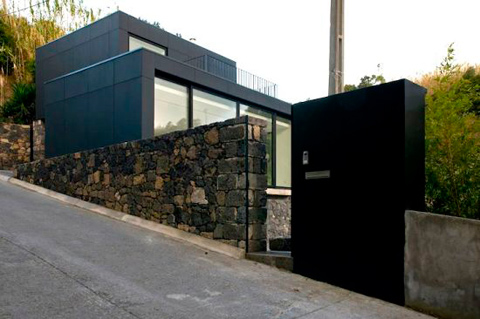 As a result, the 2 cube volumes of the new structure seem to grow out of the thick, conserved stone walls, not arguing with them, yet creating – by its polished black-and-glass surfaces – a beautiful contrast to the rough texture of the stone masonry.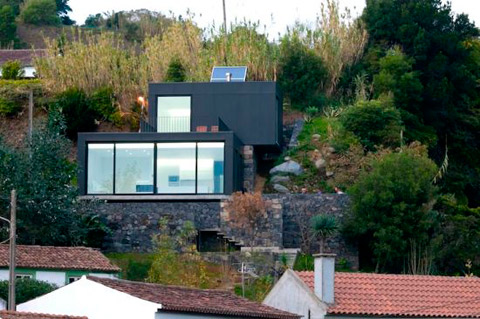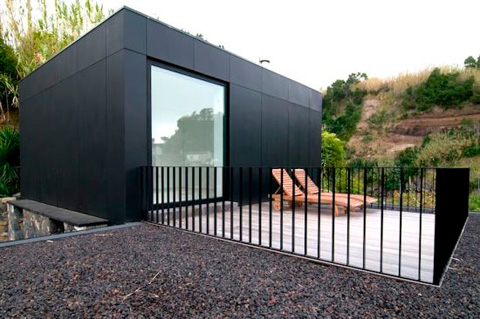 The house is covered with black panels from the outside, the interior surfaces are left virgin white and the elevations have vast window parts. By these 3 factors the feeling of lightness and airiness of the house is created: just look at the picture which shows the glass facade of the living room – the black color of the solid walls determines the volume and materiality of the new structure, whereas the big area of windows makes it look light and airy. And, finally, the white color of the interior space contrasts with the rest of the project's color palette, proclaiming proudly that this interior is special and cozy, indeed.