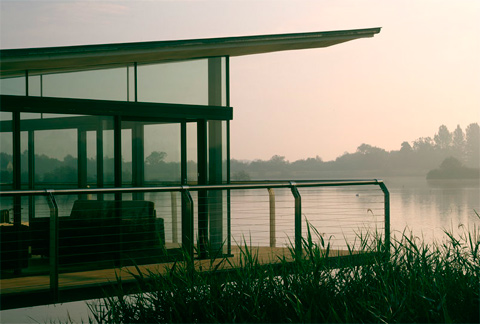 A house that is floating over the water – floating over the beautiful surface of a lake surrounded by peaceful, green banks – would be a retreat dream for many of us. This one, located in the UK, is one such dream holiday house.
It is supported above the water by 4 concrete piles, while a bridge connects the lawn on the lake side with the entrance to the house. The architecture is very simple – the layout of the house resembles a square form, the steel structure is covered by the single-pitched roof.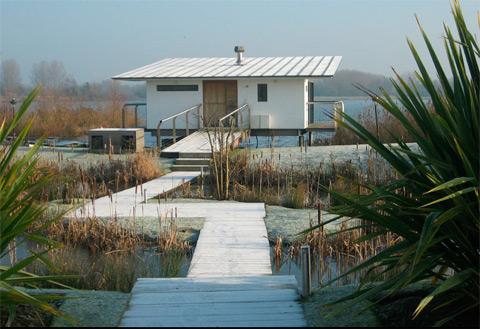 Because of the peculiar location of the building, no wonder it is embraced by the wooden decked terrace from its 3 sides (the comfortable lounge chairs, which cozily complete the romantic atmosphere of the terrace, couldn't escape my attention).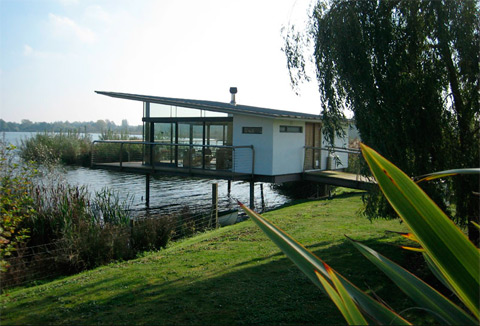 The spaces of kitchen, dining and living rooms are united together and most of their facade surfaces are made of glass, offering breathtaking views of the waters of the lake. Owing to big amount of day light, the interior design feels very airy and united. One of the most interesting points about the inner space is the fireplace, which is hanging from above.
The floor area under and around the lower part of the fireplace is cladded with grey-black slate tiles. This detail (slate), as well as the implementation of natural wood, connects the local identity to the modern concept and design of this house.