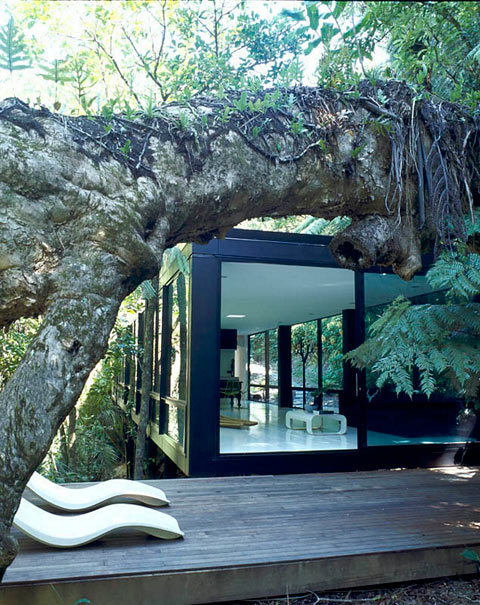 It's not the first time we show you a piece of architecture surrounded by pure nature. This one is especially attractive for several reasons. First of all, it is located in the forests of New Zealand, near Auckland. Secondly, this holiday home, being extremely stylish and interesting, has yet a small site impact.
Indeed, the steel structure sits on 16 poles. This way, the house is lifted over the slope and the trees are able to continue growing from underneath, so that the structure perfectly blends with its almost untouched surroundings. Isn't it gorgeous?
The color of the building is also chosen to add to this blending effect; a black structure frames large glazed surfaces, in which the lush forest vegetation is reflected. The old and mighty Puriri tree has become a part of the outer design of the house, underlining the entrance to the house by a natural arch of its trunk. This view opens up perfectly from the wooden decked terrace, which extends the inner space of the house.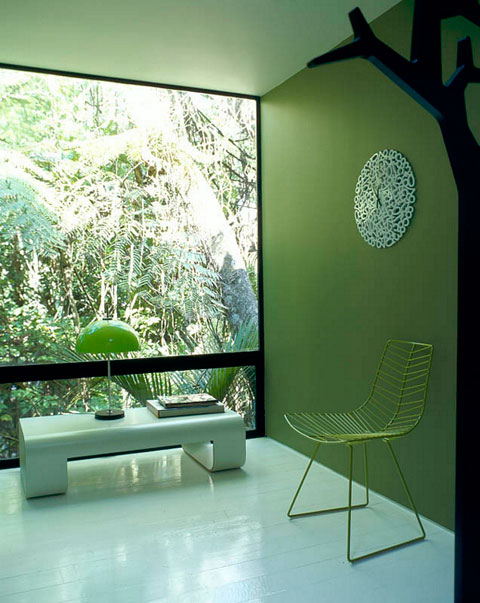 The interior space design is minimalistic. Undoubtedly, the gorgeous views, which are generously offered by the glass facades, are the priority aspect of the interior design. Apart from the black color of the structural elements and kitchen furniture, the white color is successfully introduced here for the ceiling, floor and wall surfaces. In this manner, the design is minimalistic and outside-views-oriented, yet interesting as an independent design object.