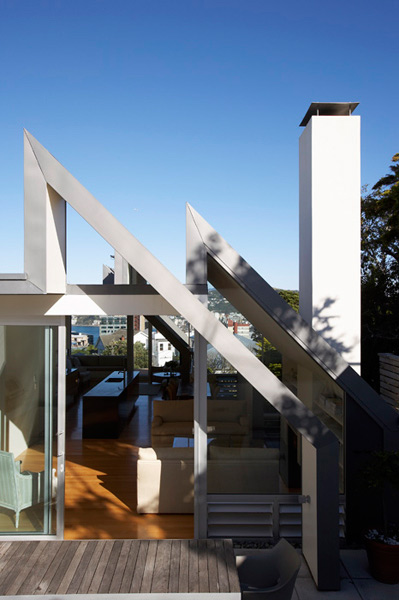 It's difficult to believe that this beautiful and unusual house, in Wellington, New Zealand, was built on a site with so much restrictions. The original house, situated next to our object, was constructed in the early 1900-s and is historically listed. That's why the new structure had to be kept lower and non dominating over the old house. In addition to that, the site itself is dramatically steep and quite small. However, all these restrictions made overcoming the challenges even sweeter.
The architects utilized the existing slope to build a multi level house. The bedrooms and garage are located at the lower level. The upper level, seen from the street, is hosted by the living area. This part of the building is designed according to the concept of the roof space; the roof planes cut the space diagonally here and there, while at the same time create an interesting skyline and visually preserving the small scale of the house. These roof planes are split into three, where each has an active triangular form. They are set apart from each other, creating an additional source of day light to the living space underneath.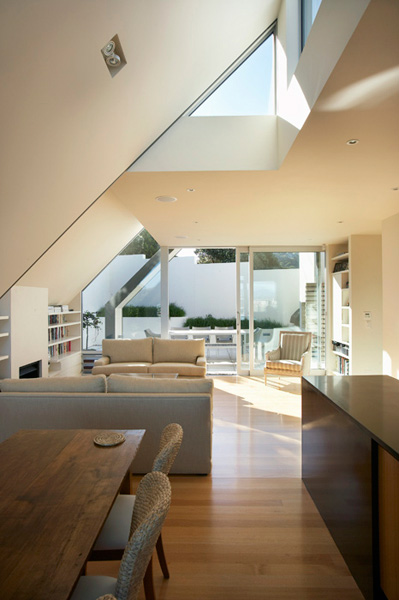 Cladded with zinc, the roof looks modern, yet modest together with the white coating of outer walls and big glass surfaces on the gable elevations. The interior design of the house is eclectic yet mild, featuring natural colors of cream, beige, and white. Such a modest choice of colors perfectly fits the dramatic form of the roof and the unusual location of the roof windows. All in all, the outer and the inner design play their part very harmoniously.