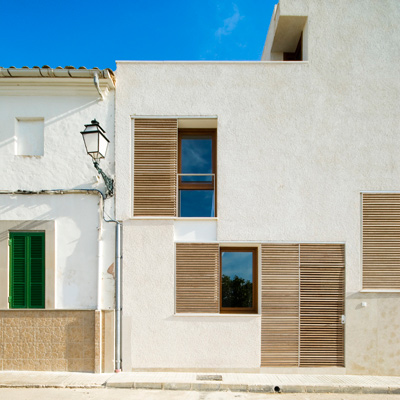 Sometimes the most unexpected combinations turn out to be the most poetical of all…I'm talking about blending traditional values with the ultimate technological achievements. In Mallorca, Spain there's a good example of how to turn this poetic statement into a concrete reality: Ferriol House!
Placed at the end of a small street composed mainly by ancient traditional houses, this two-story building has 300sqm of constructed area. The house presents small street-facing windows in order to quietly preserve the original streetscape.
Also the volume follows this sensible condition: this new architecture fits delicately in the street silhouette, matching the height at on one side and increasing an extra half-story on the opposite side. But let´s discover the real meaning of blending past and present architectures.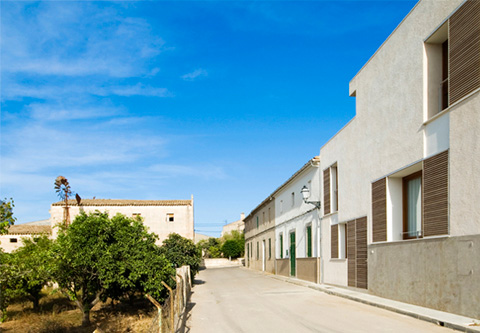 On the ground floor a magnificent distribution of the social areas allows a deep relation between exterior and interior: kitchen and living room are facing the generous garden placed inside the site area while a bedroom and toilet are facing the street.
In the middle of the plan's composition, a unique staircase – illuminated by a tiny interior patio – leads our steps to the first level where three bedrooms and two bathrooms offer the necessary privacy. In fact, split levels separate rooms on both floors respecting the site's topography that slopes upwards towards a second road at the back.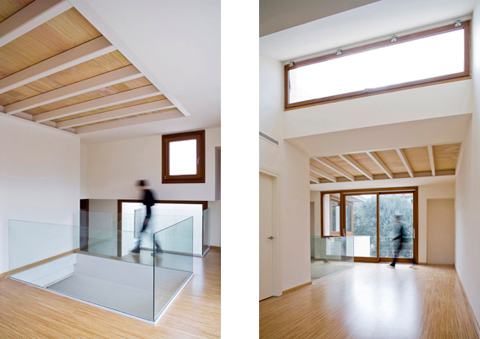 Materials also play a major role here: painted ceiling beams are left exposed on wooden ceilings while glass screens provide banisters for staircases and balconies. White painted stucco facades are brilliantly composed with wooden shutters bringing old-style architectural vocabulary into a new spoken language: contemporary architecture!