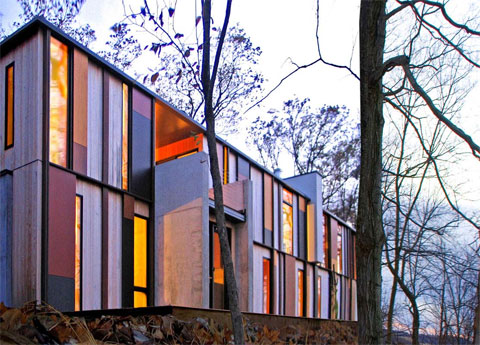 This joyfully striped structure is a 2,691 sq. ft. house, situated on the steep lake bankin Green Lake town, Wisconsin. I find that the house looks especially attractive – with these warmly colorful stripes – in the monochromatic context of winter or as autumn leaves fall to the ground.
The two rectangular bodies of the house, which are put perpendicularly towards each other, form the building's inner yard which opens up to the access road and the woods.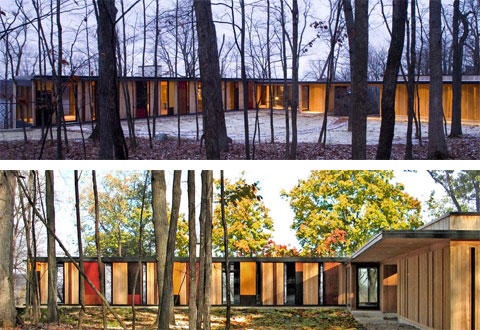 The plot and the house itself are surrounded by dramatically high (at least in comparison to the horizontally stretched and low building's volume) trees. At this point of your acquaintance with the house you think it is a one-story building and you still expect to see the lake. Only after going inside or around the corner you discover that the natural slope has been successfully utilized for the advantage of the house's planning structure: the main building block is two-stories high, while its ground floor, containing the bedrooms, is actually hidden from the access area by the natural incline. As a result, the isolated private space enjoys splendid lake views.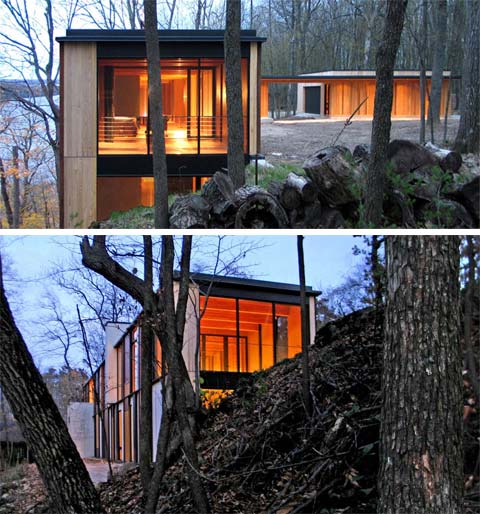 I can imagine a barbecue party in the yard which would also involve the living space on the first floor of the house (where a generous open plan space of the drawing, dining and kitchen is situated) and a member of the family having his/her undisturbed retreat downstairs at the same time. Truly, such a successful functional division is a great privilege of every architectural project!
So, you've already got acquainted with the structure and location of the house and have gone to explore the interior design. Exposed timber beams, differently sized – narrow and wide – window areas with breathtaking lake views, gentle milk-coffee colors, a console-like constructed fireplace: I would call it a smooth "cappuccino" design.
And one more beautiful thing about the house: there is this peculiar place downstairs, in the masters' bedroom – a closed open space between the room and the rock. I'm definitely in love with the whole project and with the elaborately designed facade surfaces, great planning structure and the extremely elegant interior design in particular!