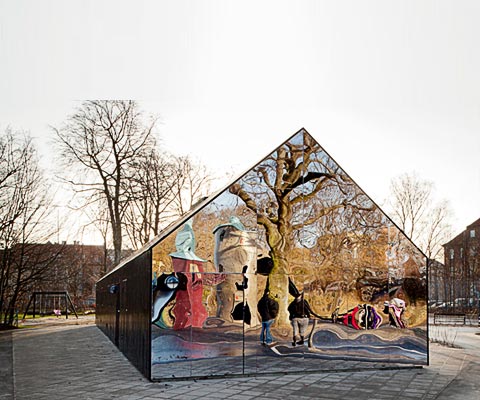 "Magic mirror on the wall… Who is the fairest of them all?" – In Copenhagen a fairy tale has become true…when MLRP Architecture transformed an old playground structure into a magical reflective pavilion!
Danish children became inhabitants of this little house of fun – a flexible space of 140 sq.m. with toilets, restrooms and a large multifunctional room with a fireplace, where almost everything is possible to be realized…I'm talking about the perfect stage for kid's everlasting imagination to be tested and fulfilled!
Mirrors became facades, creating a particular interaction between built and landscape, stimulating all kind of reactions in visitors and inhabitants. But in this small castle of fun, there's no evil queen… Instead, dark wood-clad facades and roof kind of reminds me the black ebony hair of Snow White. Coincidence? Maybe, but all these exquisite details do capture our attention.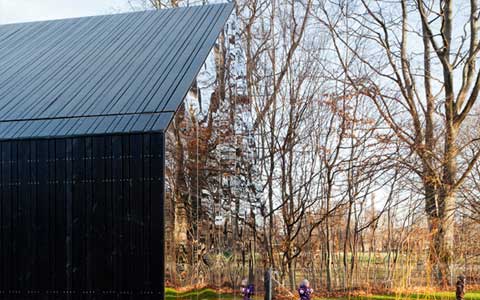 Heat-modified sustainable wood and mirror polished stainless steel are the main characters here. Window and doors are integrated in the wood-facade behind shutters with a varied bent mirror panel effect, attracting children who enjoy seeing themselves magically transformed in every direction.
At night the shutters are closed making the building disappear into the darkness… At the end of this journey through such a remarkable building, I'm a little touched about the simplicity of turning an old and anonymous structure into a unique installation of dreams and wonder – Could this be possible without the use of a magic wand?!