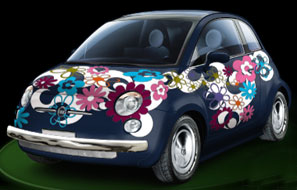 Fiat 500 has come up to life awakening sweet memories for the Fiat Cinquecento. This is the official return of the Fiat 500 and as the Italians lovingly call her the Fiat Cinquecento.
The Fiat Cinquecento is an Italian symbol as much as the Italian pasta, shoes or cappuccino. It was born as an alternative for the Italian Vespa.
The roof of the original Fiat 500 used to be a rolled canvas, while a simple hook kept the motor engine slightly opened to accelerate the motor cooling and ventilation. Young Italians loved this car making it a a symbol for chic and style.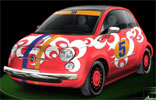 The new Fiat 500 concept car launch was visible throughout Torino, exactly 50 years after the original launch of the Fiat Cinquecento.
Fiat came up with the concept lab for the Fiat 500 where you can build and experiment with the Fiat 500 concept car. Now you can choose your favorite color and accessories for this amazingly cute Fiat Cinquecento.