Space: Japanese Design Solutions, by photographer and writer Michael Freeman, is a photographic exploration of Japanese architecture and design for small spaces. This book is full of imaginative, ingenious, and revolutionary solutions combined with the well-known clean lines and modern aesthetics of Japanese architects.
This is the perfect gift for anyone looking to maximize his or her living space, as well as architecture enthusiasts and those with an interest in Japanese style.
Masters in the art of managing small spaces, the Japanese in their design have given rise to a particular style of ingenuity. In their work, Japanese interior designers and architects constantly draw on cultural traditions, while using a modern, even radical approach. Whether in the use of lightweight partitions or strange perspectives, the results, artistic and unusual ones, can turn a lack of space into a surfeit of style.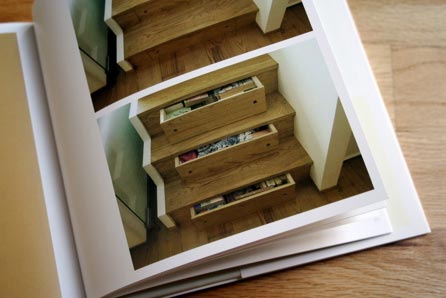 This book is full of creative storage solutions such as shelving units that pull out of walls and under the floorboard storage; i love this small space storage solution where drawers are combined within the stair risers. How do you pull them out, you ask …Look closely, there are holes to put your finger in and then pull out. (Thanks, J for the photo)
Distinctly Asian in its feel and comprehensive in its coverage, this hardcover book features crisp photography, inventive design solutions, unique packaging, and a handy format.
Buy This Item