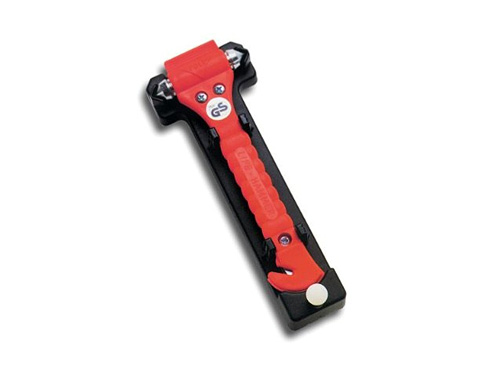 The LifeHammer is the ultimate next step in the evolution of vehicle safety. An original tool of its kind, that answers the need for an escape tool tailored specifically for vehicle entrapment. Can be held in the palm of the driver's hand, consisting of a double-tipped hardened steel hammer, and a safe seat belt cutting blade, it is designed as an aid drivers and passengers who, in the event of an emergency, god forbids, need to quickly escape from their vehicle. Whether the emergency is due to submersion in water, a fire or a related event, this lifesaving device is easily stored out of the way, yet within range of the driver. A breakthrough emergency, must have, tool.
Life is a series of unexpected events. Although we want to believe otherwise and sink into our beloved routine, our lives can turn around in seconds leaving us surprised and sometimes helpless. This is reality, and our responsibility is to try and be as prepared as possible for different scenarios that might occur. The LifeHammer emergency hammer is an excellent tool to help us deal with those unexpected events.
This product includes a mounting bracket (made of tough ABS plastic) for convenient installation, a polypropylene grip and handle, and a florescent pin which glows in the dark for easy retrieval. Don't postpone, it's time to put your safety first.
Buy This Item