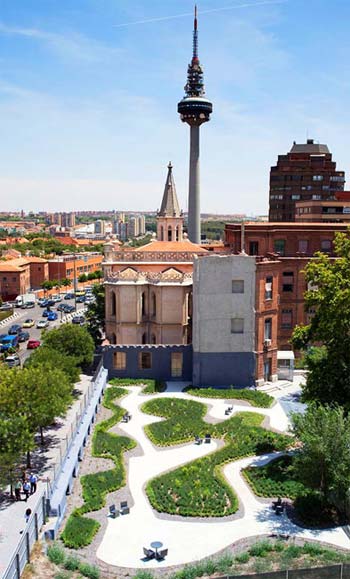 The garden is located in the place of demolished cellars of the Madrid Regional Health Service's Old Building. The area of the garden is 11060 sq. ft. Not only is the place beautiful in both style and form, this public garden is a fine example of recycling.
Who would have thought you could use so much building garbage to create a brand new garden? Almost everything is reused here: the crushed recycled concrete was used instead of the gravel under the reinforced concrete; recycled glass mixed with resin was used to prevent slippery and give the peculiar shininess to the walking surfaces under the sun; crushed parts of demolished roads are used as the dark drainage gravel.
Another eco feature of the project is the proclaimed low water consumption. The special kinds of plants were selected to be planted here for this exact reason.
There are two points for which I am absolutely in love with the garden. First, its graphic structure, composition and color. With the graffiti painting taken as an ornament for the composition, the garden has preserved pure lines that limit graphically distinctive/different colors and textures – white and smooth walking surfaces, dark drainage gravel and intensely green,fluffy lawns of bushes.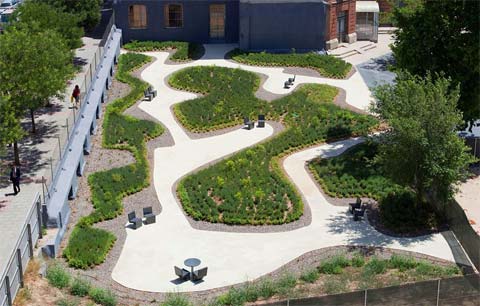 Second, I love the place and the style of the garden chairs, almost randomly scattered on your way through the garden path. Their spontaneous location underlines the playfulness and the joyful irony of the garden. Do you see the Mad Hatter drinking tea with the White Rabbit here? Do you like the mood? I do!