It's that time of year again. I'm not talking about decking the halls with tinsel and holly… I'm referring to a much classier affair. This year marks the 50th Anniversary of the iconic James Bond series. Since his debut in the 1962 film "Dr. No", this legendary hero has become a staple in British pop culture and a worldwide phenomenon. Secret Agent 007 exposed audiences to the extravagant world of organized crime with its highbrow villains, seductive international beauties, and exotic escapades.
The Bond series was a pivotal major influence in the arts, fashion, and film industries and became a gateway to the world of modern couture. Designer suits, smart devices, luxury cars; Bond's timeless style has prevailed through five decades of fashion trends and technological advances thanks to his meticulous yet precise sense of style, and state-of-the-art gadgetry. In true British finesse, Bond always nabbed the bad guy, rescued his lady, and remained looking dashing while doing so.
To celebrate Mr. Bond's Golden Anniversary, MGM studios has released an impressive collector's box set called "Bond 50". The set is available in both DVD and Blu-ray formats, and features all 22 Bond films, over 130 hours of bonus features*, never before seen footage*, and a stunning collectors case complete with a place reserved to keep the newest member of the 007 series, "Skyfall". If you're looking for a great holiday gift to give this year, the "Bond 50: Complete 22 Film Collection" will definitely award you some "ooh's" and "aah's" this Christmas.
*available in Blu-ray only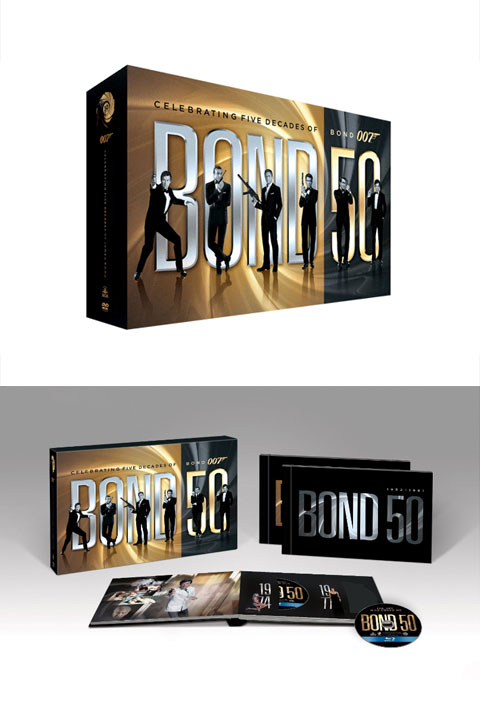 Buy This Item