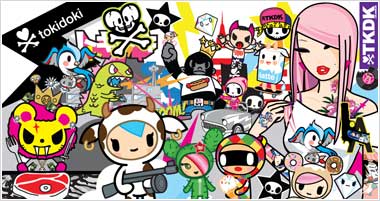 Tokidoki is everywhere! From bags and clothing to jewelry and iPods to Mercedes-Benz Fashion Week to Black Eyed Peas Fergie to sneakers. Born and raised in Rome, Simone Legno is the creator behind the new brand Tokidoki. Simone is deeply intrigued by everything about Japan, from the beauty of their tradition, to the super pop flashy aspects of the super modern cities, and most of all, it's people.
"I love their kindness, politeness, and seriousness. Yet they can be very funny, playful and extremely creative" says Simone.
The fun and chic fashion of LeSportsac combined with the provocative yet pure imaginary world of Tokidoki (which means "sometimes" in Japanese), the LeSportsac-Tokidoki spring collection is a successful collaboration presenting black and white artwork with accents of colorful characters. Tokidoki also does advertising and new media design for various other well known names including: Volkswagen, MTV, John Galliano, Toyota and many more.
Tokidoki Store