The algae biofuel Greenbox is one way for man and nature to fight for biofuel. Lets combine forces so we could save planet earth from the greenhouse effect. A noble cause indeed.
Three Northern Wales inventors found a way to capture up to 95% of the harmful greenhouse gas emissions from cars, including carbon dioxide and nitrous oxide, converting them into a reusable biofuel which can then be pumped back into your petrol tank.
So what are we waiting for?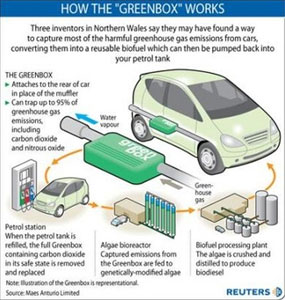 This is how the algae biofuel Greenbox works:
The Greenbox is attached to the rear of your car in place of the muffler. When the petrol tank is refilled, the full Greenbox containing carbon dioxide in a safe state is removed and replaced.
Now comes nature's part combined with the Algae bioreactor.
Captured emissions from the Greenbox are fed to genetically modified algae. Then, the algae is crushed and distilled to produce biodiesel.
Smart and simple.
Read full article here.
By the way, if you're into solar power or eco-friendly green homes design you might also be interested in:
Outdoor solar light MagicGlobe Solar Light Sphere
Studio Tord Boontje Petit Jardin Armchair
Sun Jar
Recharge your gadgets with Solio Solar Panels