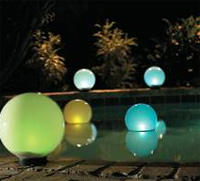 Are you looking for outdoor solar light? Look no further, because the MagicGlobe Solar Light Sphere is here.
These cool solar powered outdoor light fixtures have a hidden solar module in the spheres themselves that converts energy from direct sunlight, emitting a rainbow of colors. You can also program the sphere two ways to cycle through a spectrum of yellow, magenta, red, green, lilac, orange, blue, mint and purple.
They can float in water, stake in a garden, or rest on a table, requiring no electricity. The MagicGlobe Solar Light Sphere automatically illuminates in darkness for up to 12 hours and it comes with a NiMH battery pack.
These outdoor solar light MagicGlobe spheres provide discreet floating lighting for your pond or fountain. They can add a great 70's atmosphere for any outdoor or pool party. Very shagadelic style Austin powers, indeed!