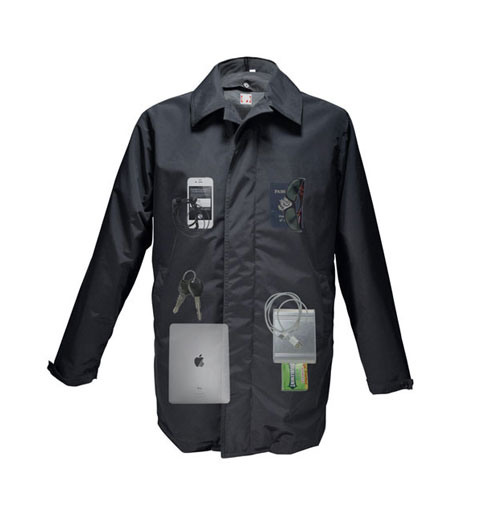 A travel coat that can be worn above a business suit to protect you even from possible rain, while safely carrying all your favorite, highly important digital gadgets like your iPad is certainly not a usual combination.
Black coat classic is a genius hybrid travel coat, which though designed over 10 years ago, its forward thinking and timeless design, are still allowing it to be considered the best in its category in the world.
Still produced using higher performance materials while masterfully sewn, its updated better fit, makes it even more suitable for all occasions, whether traveling around the world or communing to work. Features like internal pockets accurately sized to carry electronic everyday use equipment as the iPad are only some of its highlights.
In addition, an external waterproof, nylon lining will protect from all weather conditions without compromising the soft feeling of its material. This, in combination with an overall discrete and elegant line, will allow for it being worn above business suits without interfering with an elegant look.
When traveling, one may benefit from its removable vest made from fine, light, double sided fleece, which will add warmth and comfort should the temperatures dictate that. Invisible when integrated with the shell, the vest liner can be removed and worn separately as active wear, leaving the shell to act as a lightweight, raincoat.
In our fast paced societies, this three in one design coat made in the USA by Koyono, will definitely prove to be a favorite, clever choice in every situation, being a great all weather companion, for travel, work and play.