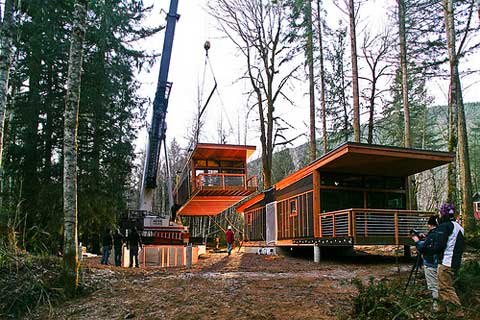 With an impressive portfolio of green prefab homes, Seattle-based company Method Homes focuses on sustainability, energy efficiency and thoughtful design – all wrapped up in their unique approach of "Down to earth prefab.™". We spoke to Brian Abramson, Director of Business Operations and Co-founder of Method Homes, to bring you his point of view on prefab design and construction.
What inspired you to get involved in prefab?
A desire to streamline the building process and offer good design and efficient homes to a broader spectrum of the market. I have also personally always been passionate about design and architecture.
Describe your approach to prefab design & construction?
We at Method Homes take an integrated approach in that the whole team is involved from conceptualization of a project to completion. We look at ourselves as a custom builder who builds offsite and can implement anything that is designed, engineered and will fit on a truck. Since we are not an architect run company we can build for anyone including custom projects for architects, developers, homeowners and other prefab home companies.
Can you tell us about the type of construction and materials you have chosen for your prefabs and why?
We use both wood and steel construction and feature durable materials because not having to replace things is a green as it gets.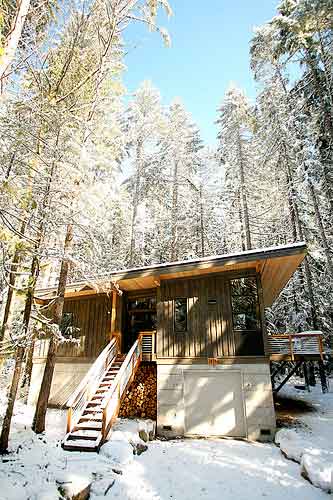 How important is sustainability and efficient design to you?
It is inherent in what we do. To us, building sustainable, efficient homes is our core mission and not a marketing ploy. We want to help building step into the 21st century and reduce the waste generated and energy use needed.
What would you consider to be the most challenging project, in terms of delivery and site adaptability?
We are working on a project on a non ferry accessed island so we will be installing the home from a barge crane in the water at high tide. There is a lot of coordination and advance planning going into it.
What advice would you give to a potential homeowner interested in a prefab home?
Research all the costs and find out who is doing the manufacturing.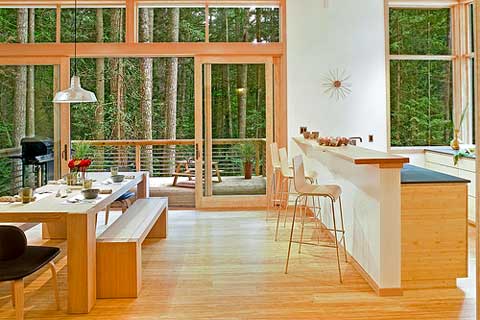 In your opinion, is the affordability of prefabricated homes a bit exaggerated or do you think prefab is the solution to low cost housing?
I think that with intelligent approaches to prefabrication and building hybrids with site built components prefabricated homes can be affordable. We are confident that in most markets our homes compare favorably to an equivalent site built custom architect designed home. In the long run as things get standardized I think there will be a real opportunity to have prefab be an affordable option without sacrificing efficient good design as is so many times the case.
Prefabricated modular apartment units, prefab student housing, and even prefab hotels are sprouting up across the globe. What are your thoughts about that?
We are constantly looking at these type projects and as digital manufacturing and cnc machine become more prevalent there will be more and more offsite construction.
The future of prefab – Is it just a passing trend or is it here to stay?
Here to stay! We are scheduled to be building into 2012 at this point, are seeing increased interest and it seems like new companies are sprouting up everyday so you will be seeing more from Method Homes and prefab in general.