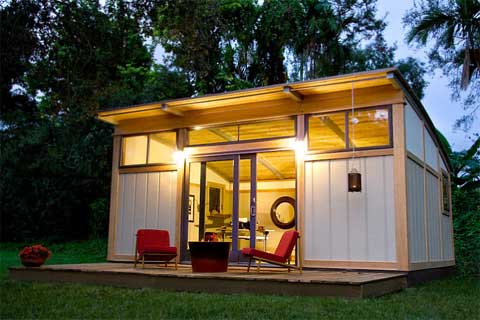 Whether you are looking for a home office, a granny flat, a weekend retreat, a small home or a commercial project, Miami-based company Cabin Fever creates well-designed, affordable, prefabricated cabins of natural beauty, quality, and style. We spoke to Andrew Kelly, Founder and CEO of Cabin Fever, and learned that for him, prefab building was a natural step.
What inspired you to get involved in prefab?
I was ready for a career change and looking for a challenge. My professional background is product design and manufacturing, something I have been working at for 25 years in the furniture industry – while looking for a prefab solution for a backyard office, I couldn't find what I was looking for. The more I looked, the more I saw that there were opportunities to create a better product and a better way of doing business. I jumped right in and haven't looked back.
Describe your approach to prefab design & construction?
We approach prefab as both a product and as architecture. The product design informs the external, the materiality and the manufacturability while the architectural design speaks to the rhythm, the function and human interaction with our products. A fundamental principal is to balance quality with cost at every step. Walking that edge, this is where the work is.
Can you tell us about the type of construction and materials you have chosen for your prefabs and why?
As we study the available materials and methodologies, one thing is clear. Wood, one of the oldest construction materials, is still one of the best; it offers performance and price. The advancements in engineered timbers and processed panels make it a good choice for many applications. The skill is choosing exactly the right material for the task (and there are hundreds to choose from). As a boat builder would use oak for a keel, teak for the decks and spruce for the masts. Similarly, we use a combination of natural and engineered forest products in the frames, the structures and the skins of our buildings. Wood is good, but we also embrace many other construction materials. We aren't afraid to think outside the box, to reach out to other industries to find the perfect material for a given application.
For example we offer a 1-piece PVC membrane roof. This product isn't well known in residential building – it's a product for commercial roofs. Super strong, it performs well and it's well priced; we think it's a smart choice. Our work in developing Global Shelters has led us to jumbo engineered wood panels built for train and truck floors. These panels are used as 1-piece shelter walls. From the commercial refrigeration industry we have adopted durable, lightweight, and super insulating building panels. We use them in our Zip Cabin and our global product roofs.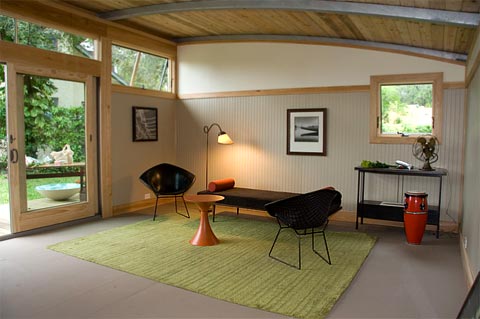 How important is sustainability and efficient design to you?
Sustainability is a complex subject. We have found that it's easy to talk the talk, but not so easy to walk the walk – especially with ones wallet. Let's face it – green isn't cheap. Many of our customers, when given a choice, will not choose to spend more on a sustainable option. To steer our customers toward sustainability, our job is to offer only sustainable choices. However, it has to be incremental – one step at a time. We are taking these steps.
What would you consider to be the most challenging project, in terms of delivery and site adaptability?
In delivering a complete product, we must navigate the building department bureaucracies and their sometimes mindless rules and regulations. In response, we have developed our "no-permit" Zip Cabin. At 120 SF, its permit exempt in many localities. The pint-size Zip offers full-sized features such as an innovative wall and roof structure with integral raised floor foundation, and roofed deck.
We have had a few site challenges: A studio in Santa Monica for an international celebrity – they insisted in a maverick approach with no permits, very nerve racking. We built a music studio on a "gentle slope". When our crew arrived, we found the building site 100 feet down a footpath at the bottom of a ravine. The slope was gentle, however the footpath down the hillside turned into a muddy slide as the 5-day build was carried out in the rain.
We are currently developing small "point-of-interest" hard-camps that will be used in Costa Rica. These small buildings will be delivered to almost inaccessible sites using pack mules. We will report back with these delivery stories.
What advice would you give to a potential homeowner interested in a prefab home?
When researching prefab manufacturers, remember that beauty is only skin deep…we all provide pretty pictures, find out about the nuts and bolts – what's behind the walls?
There are 2 integral parts to a successful prefab installation: a good manufactured product, AND, a quality builder on the site to assemble it.
Prefab can deliver on the promise – a quality building at a good cost and with substantially less hassle than traditional construction. Do your homework and go for it!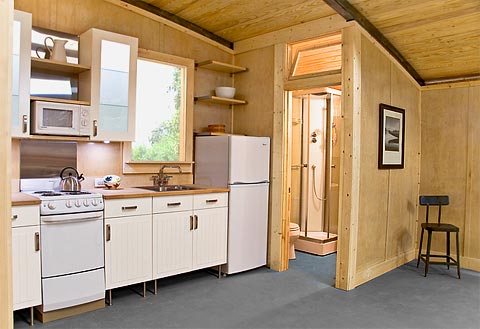 In your opinion, is the affordability of prefabricated homes a bit exaggerated or do you think prefab is the solution to low cost housing?
There is a lot of hype touting prefab as affordable housing; in the design magazines we all see prices of $300 – $400 per square foot. This is not a product aimed at a cost conscious market segment. Who than is serving this market? There are larger factories, filling (part of) this need. However, they are not targeting the "style" customer. There are just a few prefab builders focusing on style, quality and cost. This is the niche that Cabin Fever occupies.
Prefabricated modular apartment units, prefab student housing, and even prefab hotels are sprouting up across the globe. What are your thoughts about that?
When they are innovative, commercial prefab is carrying the movement forward in a very positive way. These projects sometimes employ the use of techniques and methodologies that are impractical with individual buildings and a smaller budget. This innovation trickles down. We can carry some of these solutions and ideas into our residential projects.
The future of prefab – Is it just a passing trend or is it here to stay?
There is a huge gulf between the boutique prefab builders and the well funded factories.
The factories need to become more hip and the smaller builders with the beautiful styling need to find a way to offer better value. When this happens, prefab will deliver on the on the promise made long ago – A better home for the people.
What's new at Cabin Fever?
We are constantly evolving both our products and our building technology. For our fans that check in often, the change is incremental, it's hardly noticeable. The subtle refinements are often in the materials that aren't seen such as the waterproofing of our building envelope. One area that is out front is a switch from steel to laminated curved wood beams. While we liked the look and performance of the steel, wood is much easier on our assemblers in the field. The massive wood beams are a signature look to the Maxwell line.
As referenced above, we have added the ZipCabin. It was developed as a bolt-together smaller structure that is ready-to-use with fully finished interior and exterior surfaces.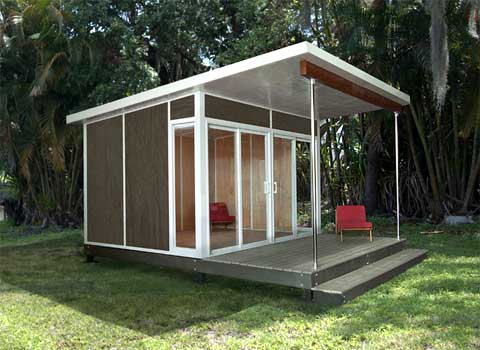 In developing the ZipCabin, the foundation was our first focus as it is here that a lot of money and time is spent in the field. We wanted a better solution. Our team designed a specialty piece of hardware. These proprietary connectors do double duty as frame connections and foundation risers complete with load bearing feet. This elegant solution takes 75% of the work out of foundation preparation. Needless to say, we are excited about this development and view it as the cornerstone of the next generation of Cabin Fever prefabs.
On our drawing board is an expansion of the ZipCabin line. Keeping the attributes of the Zip-Foundation and the fully-finished bolt-together construction, we are developing larger, livable models in several configurations.
2010 saw the devastating Haiti Earthquakes. We have developed shelters, housing and clinic structures for use in Haiti and other high-need areas. In addition, we have developed specific designs for Uganda and Gunea Bissau on the African continent. Our work with global solutions serves as a laboratory where we can bring new materials and technologies to our Cabin Fever products.