We spoke to Stepan Skala from Bachbox, and discovered that a box is not just a box – it's a stylish portable shelter, designed for extreme environments, with an outer steel shell and four large folding decks which completely enclose the building when not in use.
What inspired you to get involved in shipping container based architecture?
The growing need for prefabricated and transportable affordable buildings.
How important is sustainability and efficient design to you?
Very important, and we strive to employ best technologies available to achieve this.
Describe your approach to container housing design & construction and how it's manifested in the Bachbox (in terms of planning and design)?
We looked at utilizing container structures for the Bachbox, however due to the expensive modifications that would be required we opted for custom design which resembles a container structure. By doing so we have been able to design and maximize internal layout otherwise restricted to shipping container dimensions.
If I understand correctly, the Bachbox only looks as if it's made from shipping containers, where in fact it is based on a steel frame structure. Can you elaborate?
Yes, that is correct the Bachbox only has the external appearance of a shipping container but is far from one. The design is based around main structural steel frame which allows the building to sit on four legs and is able to be lifted via roof mounted crane connections. This system offers great strength, and site flexibility as only four foundations are required. On sloping sites the legs can be easily extended to suit steep terrain below.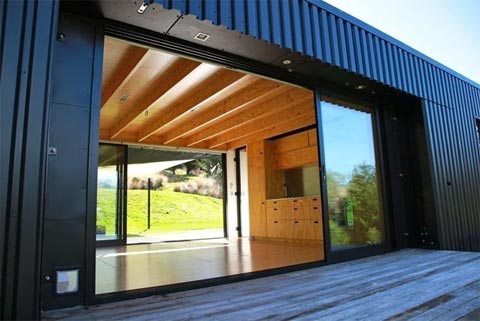 Can you specify, in general, what are the prefabricated components embedded in the Bachbox?
There are many prefabricated parts to the Bachbox. Main items are: pre-fabricated main steel frame, pre-fabricated steel wall & roof framing, pre-fabricated wall panels etc.
Can you tell us more about the people behind the design and making of the Bachbox?
The design concept was conceived in 2009 following a purchase of rural land. My partner and I wanted to build something temporary / relocatable which we could later use as a holiday beach house. This required good security design which would also offer protection from the harsh element when the building was not in use.
The folding decks with cladding on the underside was our solution. Next step was to establish max size that would not restrict road transportation, followed with maximum internal space utilization. Our design scope also included cyclone & earthquake resistance and high snow loading capability. We have spent over 4 month with our local structural engineer refining the design to meet this criteria and than we personally build the first Bachbox to verify these new construction methods. Since than we have now developed a longer version Bachbox 15.1 which is more suitable for permanent occupancy.
We are currently developing new structural systems which will also allow our building to be split into 3 parts which can be 100% factory pre-fabricated and shipped anywhere in the world.
If I were to live in an extremely hot or cold climate, would the Bachbox be the right choice for me?
Yes, the Bachbox is heavily insulated, which means it remains warm in cold climate and cool in hot climate. The Bachbox design also offers excellent cross ventilation which offers natural cooling during hot summer weather. Our show-home also employs two large shade sail which further provide cool shaded outdoor areas and also reduce internal heat.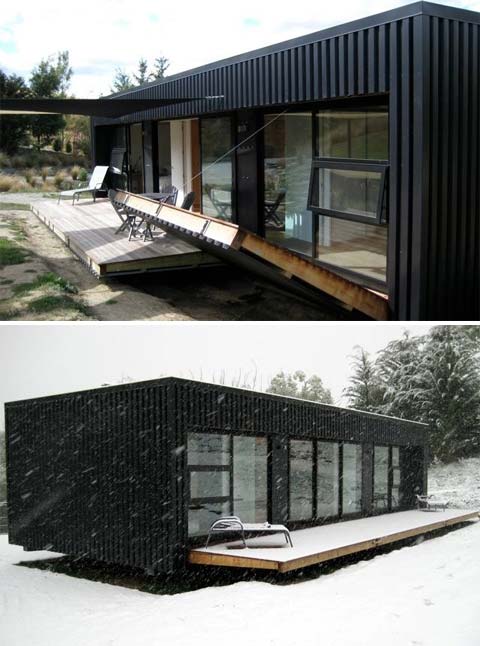 Are there any prominent features or benefits to living in the Bachbox?
Yes, security, transportability, efficiency, and most importantly cyclone and earthquake resistance. (up to category 5 cyclone or 300km/h wind speed)
What advice would you give to a potential homeowner interested in a shipping container home?
Choose your design carefully as there are lots of options available on today's markets. Also consider primarily use, (i.e. permanent living, holiday home or bach, commercial use etc.)
In your experience, is there any difference living in a container home compared to a conventional house?
The Bachbox is custom design and build and only resembles a container house, on the inside it is modern and specious enough and feels like a standard modern home.
In your opinion, is the affordability of prefabricated houses a bit exaggerated or do you think prefab is the solution to low cost housing?
Yes, prefab or semi prefab (Kit-set) format like the Bachbox offers many options and advantages over convectional construction methods. Speed, quality and affordability.
From small vacation cabins to student housing, offices and even movable cafes – container-based architecture is sprouting up across the globe. What are your thoughts about that?
Yes, there has been a large growth in mobile/ transportable architecture and this is perhaps a reflection of current global economy.
The future of container architecture – Is it just a passing trend or is it here to stay?
Yes we believe mobile/ transportable architecture is here to stay, as it offers clients many options and is affordable.
Kit-set housing can be easily shipped/delivered any where in the world offering cost effective solution to all parts of the globe.