Zwei is one bag fits all. Zwei bags grow with your personal needs, whether you are out shopping, rushing to an important meeting or out cycling or roller-blading. The Zwei bag is extremely flexible. Everything has been thought of within this bag design, from the functional design to the clear and simple organized arrangement.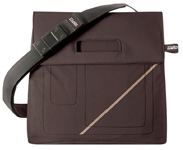 A gentle click opens the magnetic catch converting your Zwei bag from a messenger bag style to a shopping-bag tore handle or even a waist strap if you decide on running.
You can also secure any of the three bag designs to the front of a bicycle with an optional KLICKfix system, fastening the Zwei bag to your bike, while concealed behind a padded flap on the back of the bag. It is simply ideal for bikes.
"zwei": one bag, many possibilities.