These days the name Potter immediately brings J.K.Rowling's Harry Potter to mind, but the new movie "Miss Potter" is definitely not about Harry's mom. "Miss Potter" portrays the story of Beatrix Potter, the author of the beloved and best-selling children's book, "The Tale of Peter Rabbit", and her struggle for love, happiness and success in Victorian London.

Back in the 1900's women were supposed to marry, have children and run a household. A hundred years later and i am running my own blog.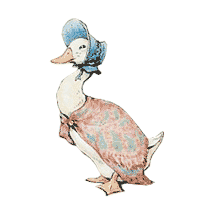 The enchanting Renée Zellweger brings the uncompromising character of Beatrix Potter to life as well as her illustrated friends. Beatrix's drawings are truly exquisite, As Norman Warne, Beatrix's publisher, played by the charming Ewan McGregor, points out. Most of her drawings were created at the Lake District area where her family used to visit.
What I found out at the end of the movie is that Beatrix Potter dedicated her later years to preserving the ecology and natural beauty of the Lake District. She worked closely with The National Trust and left them over 4000 acres of farmland she had bought to be preserved as a living landscape. How can you not love and appreciate this heroic woman?

Anyone who can appreciate English country-side scenery, beautifully drawn characters coming to life on paper as on the screen and of course a true story about a woman staying true to her dreams, will absolutely love this movie and probably find themselves smiling foolishly while remembering childhood stories.
Also, If you're into children's books illustrations or simply looking to adore Beatrix Potter's book collection, check out her classics here.