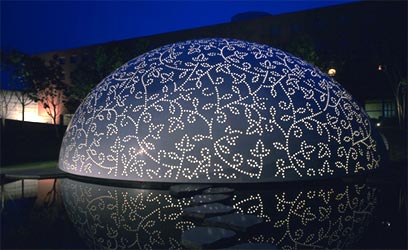 Within the grounds of the Risonare hotel resort in Kobuchizawa, you will find KDa's amazing Japanese architecture design called the Leaf chapel. This modern chapel is formed by 2 leaves – one glass, one steel – which have seemingly fluttered to the ground.
Overlooking the beautiful views to the southern Japanese Alps, Yatsugatuke peaks and Mt.Fuji, the glass leaf architecture design with its delicate lace pattern motif emulates a beautiful pergola.
The white steel leaf, perforated with 4700 holes, each of which hold an acrylic lens, is similar to bride's veil made of delicate lace. Light filters through the lenses and projects a lace pattern onto the white fabric inside.
Klein Dytham architecture (KDa) is a Tokyo based, multi-disciplinary design practice active in the design of architecture, interiors, and public spaces and installations.