Japanese architect, Ryue Nishizawa, came up with a new definition of private and community living. The Moriyama House is a flexible-format of minimalist steel prefab house for Yasuo Moriyama, a perfect example where the home is designed like a community while connecting the inside and outside.
Located in the suburbs of Tokyo, This modern architectural concept presents a multi-building residence with ten separate buildings, ranging from 1 to 3 stories high, where every room is its own building—even Moriyama's bath is a separate building. The buildings are all prefabricated houses, which use steel plating to make the walls as thin as possible, in order to maximize the interior space.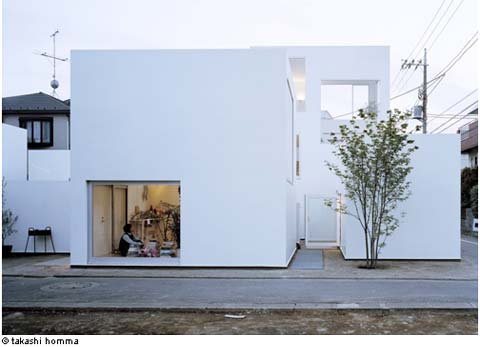 Buildings A, B, C and D are occupied by the client: A is bedrooms and a study, B the kitchen and pantry, C the living room and D the bathroom. E is the maids quarters. The rest of the units are rental units of varying size.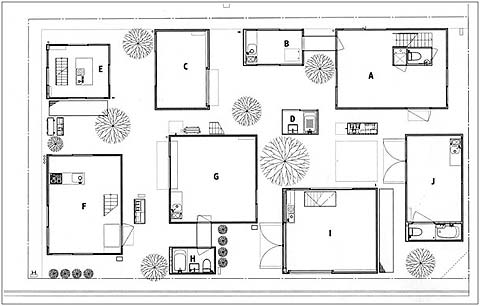 "In this house, the client is given the freedom to decide which part of this cluster of rooms is to be used as a residence or as rental rooms. He may switch among the series of living and dining rooms or use several rooms at a time according to the season or other circumstances. The domain of the residence changes after his own life."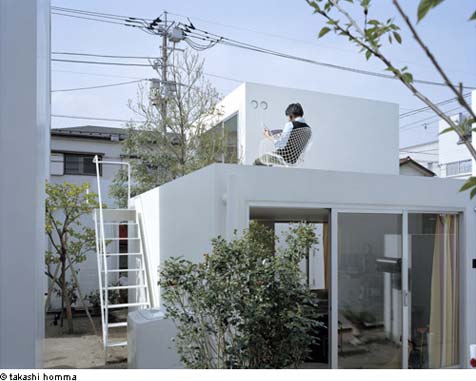 In between the buildings you will find small gardens and pathways that are open to the street while connecting the different structures – what i like about this modern prefab is that it's playfully blurs what we see as private and public property.