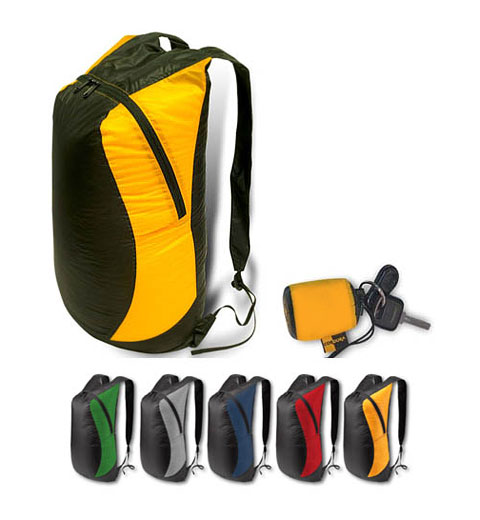 If you're looking for a tiny bag to put all those extras that you have, then the Ultra Sil Day Pack is exactly it. So many times there's just a few more items we need to carry, so we give-in and take a big bag with us and stuff it with a few other things we don't really need; with the Ultra Sil Day Pack this won't happen.
This ultra light-weight, super-compact day pack is a great addition to your travel kit. It packs down smaller than a tennis ball to fit easily into your luggage. It is made of tough silicon Cordura nylon with a polyurethane coating for water resistance. It is a day pack that weighs only 2.4 oz. It's the perfect choice for a day hike, bike ride or trip to the supermarket. Tiny as it may seem, it is big enough for all those extras.
Today, smaller is better. Small and compact is the magical combination, offering comfort, which is after all what we're looking for. When it comes to bags, the realization of small and practical has also sunk in – keeping it minimal, practical and compact as possible.
To be honest – this is the right concept, there's nothing worse than going up-hill climbing and realizing you took a much bigger bag than you actually needed, filled it with stuff that are of no use to you and now it is weighing you down when you need your strength the most. This should be the motto – keep it minimal, keep it small, pack wisely and enjoy it all. Ultra Sil Day Pack – it is that simple.
Buy This Item