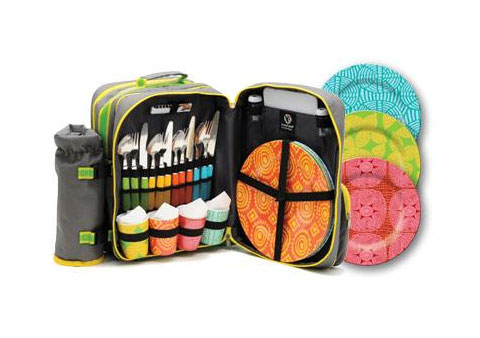 Picnic baskets: out, picnic bags: in. Well, actually, the Picnic Set with Blanket from French Bull is totally in. This is the ultimate bag for a picnic. It has everything you may need for a perfect day outdoors. A heavy duty nylon back pack with contrast piping, padded adjustable shoulder straps, and insulated food & drink storage compartments.
It also includes an over sized blanket, service for four with 100% cotton napkins, four assorted dinner plates, coordinating cups and multicolored flatware. Wait, there's more, a plastic cutting board, salt & pepper shakers, cork screw and a bottle opener. With this perfect set, life is a picnic.
Going out for a picnic is all about fun. Enjoying the outside, the fresh air and of course – the food you bring with you. Isn't it nice to have a whole set ready to go? And the best part, it comes in an easy to carry bag, so even if you have to hike for the perfect spot to have your picnic – this is no hassle, and now you can really enjoy your day out with your loved ones.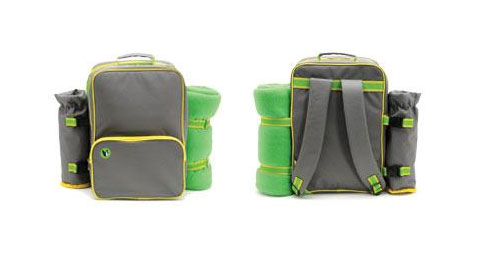 All tableware items are made of melamine, and are dishwasher safe and heat resistant (max. 356°F, 180°C). The bold and graphic colors of this set are only adding to the happy vibe, putting you into the right mood for some outdoor adventure. Going out for a picnic was never easier and so much fun.
Buy This Item