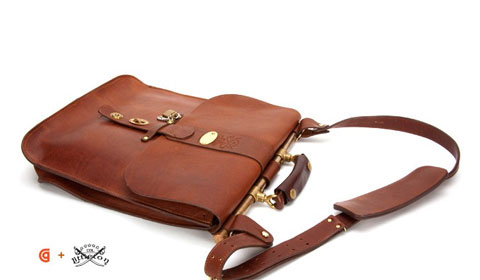 "How many roads must a man walk down?" Well, no matter which road you'll choose, the Courier Bag No. 42 will make sure you'll look sharp carrying both your laptop and iPad. This beautiful leather bag features solid brass hardware and a unique copper tube across the spine to equally distribute the weight of the bag when loaded. The bag is reinforced at key points with brass rivets and secured with an old-school-style snap closure. The brass lock may be parked when not in use.
Inside, a leather pocket holds both laptop and iPad, and other pockets organize pens, stylus, business cards, etc. The design is topped off with a carrying handle and an adjustable shoulder strap. An old school bag for modern times.
Whether we like it or not, nowadays, oldies are considered to be goodies. Which means, that old fashioned style is another way of saying quality, class, elegance and sophistication all at once.
It seems like we have a constant crave for the old and good stuff, from the days that each and every product was hand-made, and had all the effort and care put into it. The No. 42 courier bag allows us to catch this snap from the past and transform it to modern times. We get both the class and style of the past as well as the functionality of modern times. We couldn't ask for more. We shouldn't. Oh, and don't be fooled, as it comes with a hefty price tag of nearly $700.