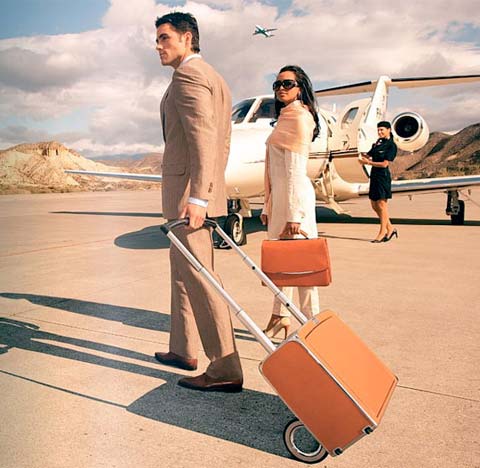 This gorgeous carry on suitcase is the creation of a Dutch business man, who was frustrated with the existing suitcases on the market and decided to create the finest suitcase in the world. This superior piece of luggage easily fits the standards of any James Bond movie invention and inevitably comes with a fitting price tag of 20,000$.
Henk van de Meene tells the story behind his invention: "It started in America 14 years ago, on a two-day business trip to New York. I landed at LaGuardia at the height of the Christmas travel crunch. There was lots of snow and no porters so I was forced to carry my own luggage, which was heavy and very awkward. I decided to create a suitcase that would be both balm and salve–an inanimate companion that could even make you happy".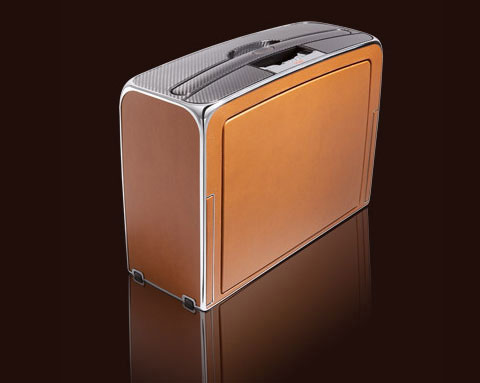 He worked on the prototype for ten years covering all the features he was looking for. He devised not just retractable wheels but a small set of rollers on the bottom edges, so that the suitcase, when tipped on end, can be slid down the aisle of an airplane narrow-side first. He even made it strong enough to sit on. Originally intended for his own private use, he decided to manufacture it on a very limited scale and turned to Frog Design of California to design and style the final product. The result: a fat, rigid, chunky case (55 cm x 40 cm x 20 cm.) but weighing only 11 lbs. and fits the standard volume of an airlines overhead compartment.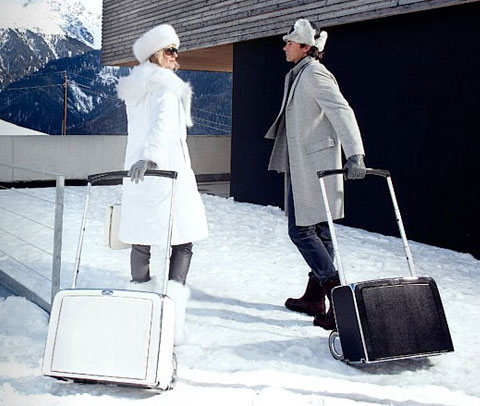 The case includes additional features: hidden compartments along the top of the case for glasses or mobile phones. Two main side compartments, big enough to hold a briefcase or laptop, and all the essentials for an overnight trip. It also has retracting two 6 1/4″ diameter wheels ensuring smooth gliding. All the features can be operated by one hand from a little keyboard of silver levers set alongside the handle. It is designed to be sturdy, easy to maneuver and feel practically weightless.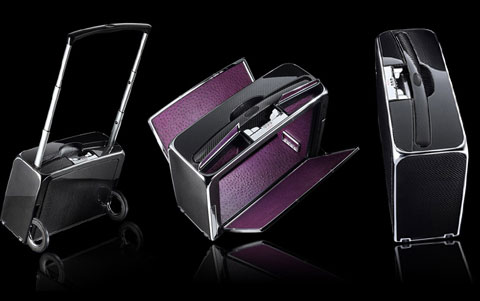 The Henk can be purchased through luxury goods purveyors such as Land Rover and Edmiston & Company for the pretty price of 20,000$ per case. Extremely strong yet exceptionally light, functional, comfortable and very striking, the case currently comes in two models: the Henk Travelfriend and the Henk Attaché Case.
Luckily, for this price the case also comes equipped with a Liquid Crystal Polymer anti-theft cable that you can attach to yourself as you stand at the airport lounge sipping martinis that are shaken and not stirred.