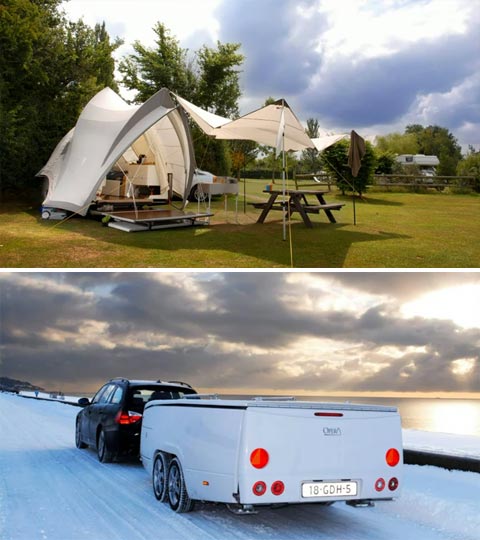 There are concerts, theater, movies and then there's the opera. The opera is on a level of its own. See, not all people like the opera, it's not for everyone. It's only for those who understand and appreciate its powerful magic to the fullest. Such is the Opera Folding Camper – for people who love camping, but like to do it in a fashionable manner, or as they say 'take it to the top'.
There are travel trailers and caravans of all sorts, however the Opera is a mobile designer suite in a class of its own, offering you the convenience of a complete holiday home. Its features can compete with a luxurious hotel, allowing you to enjoy nature and camping to the fullest, without compromising comfort. This is the ideal way to travel. This is, in a way, a life camping experience.
For some of us, experiencing the outdoors doesn't get any easier the more we grow up, therefor it's time for us to talk about comfort. The Opera Folding Camper offers you loads of comfort: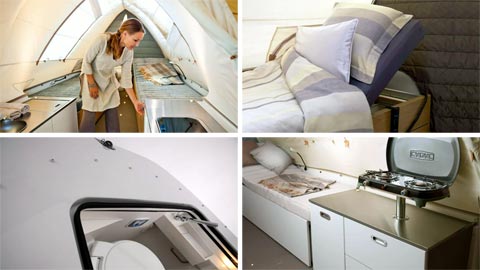 The compact kitchen is equipped with a stainless steel sink with a mixer faucet and pull-out faucet head; the electrically adjustable slats and mattresses with two comfort zones are the basis for an excellent night's sleep; a ceramic toilet and a Corian fountain with a pull-out faucet head that can be used as outdoor shower; the handy storage spaces on both sides of the Opera can be opened from the inside as well as the outside; a top loading refrigerator with a volume of 36 liters – I can't wait to try it out!