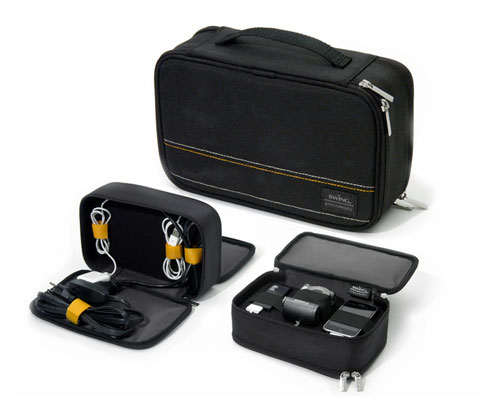 Travelling nowadays is a tricky business, there are so many cords and cables for the laptop, cell phone, MP3 player, camera, etc – and you need them all. The risk of forgetting something and be stuck without it is a huge headache. Well, it's good that there are travel cases like the Techarge Travel Case to help you be prepared at all times, without any hassles.
The Techarge is a compact, padded case that organizes all of your power cords, while also charging up to 3 electronic devices. No more looking for available power outlets for all your mobile devices – simply plug everything into the Techarge case and one power outlet is all you need – ideal for traveling or even to use at home.
In an ideal world, our laptop cord would have been suitable for our camera and our cell phone. Unfortunately, we don't live in ideal world, however we do know how to make the most out of any situation. The Techarge makes the very most of a given situation and certainly makes your life a lot easier as it simplifies your electronic charging needs. A three outlet power cord is included, and you're ready to go.
Buy This Item