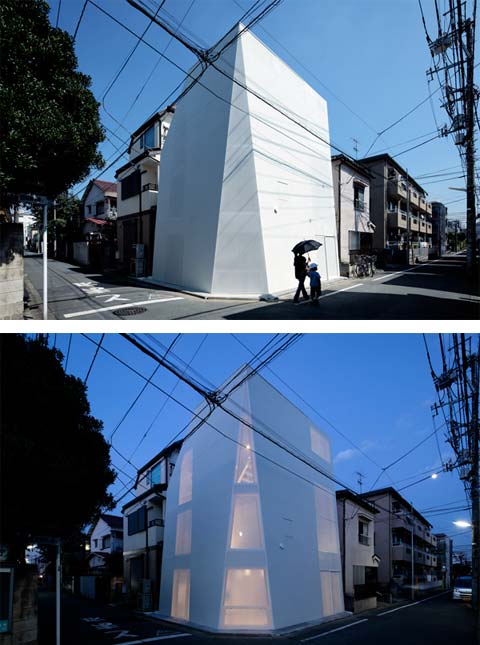 Located in Tokyo, this small house is extremely white, almost ghostly, but also sweet and cute, just like the cartoonist figure of Casper – the friendly ghost. And as an old good Casper animation film does, this building arouses nice, joyful emotions. As the song goes "All you need is love"; in architecture and design, it can be put this way: "All you need is joy and surprise". That's why I'm in love with this house. It brings joy and surprise, to me at least.
The facade material, which looks like a white fabric, is perforated metal. The whole building looks wrapped into a white linen. I hope it will look as clean and beautiful as time goes by…
The corner facade of the house is dramatically reduced into the height, which turns the whole composition into a perfect corner accent. Looking at the 'white wrapping'' of this house I can't stop myself from asking curiously: What lies under the cloth?
So let's look inside…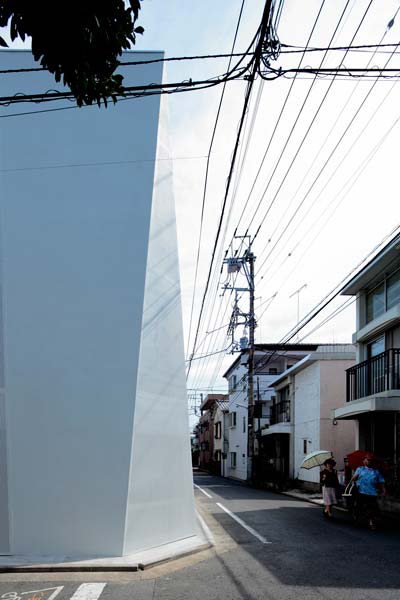 What we find inside is a classic ''nude concrete'' interior design. Since it is classic concrete it couldn't be bad. It's difficult to spoil the beauty of the combination of concrete, glass and white surfaces. The whole space feels very airy and its slight deconstructionism is not scary. I suppose the raw concrete walls look a bit duller when it rains outside, but let us pretend that ''no days must be dark and dreary'' and that the sun makes the interior work cool all year round.
A few more facts. It is so typical for Japanese architects to make the most out of an existing space: so no wonder they successful gained 675 sq. ft. of living space whereas the site of the building is only 480 sq. ft..