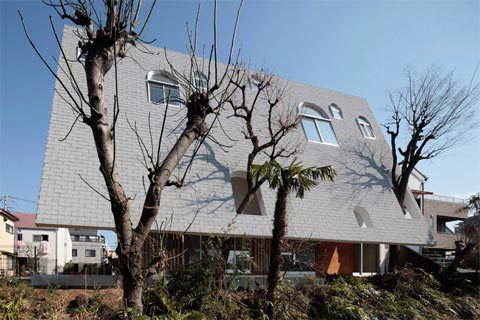 The House with Eaves and an Attic (yes, there is a house there, behind the huge roof) is situated on a small plot at the top of a hill in Tokyo. The aim was to create a spectacular appearance of a building and to utilize all the space you possibly can out of the dramatically small site on the edge of the slope.
Irony was the first instrument to be used by the authors in this project. First, the architects took the roof and exaggerated it not only in size but also in angle of incline: the roof is very steep.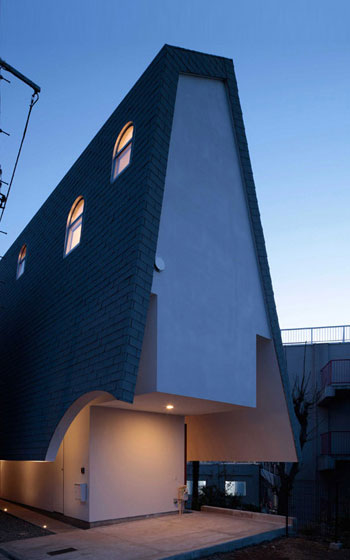 Second, they placed the semi-circular-arched windows and openings in a random order and size, all over the roof surface. Since such windows are normally used in historic facades and not in new-built roofs, it looks really funny.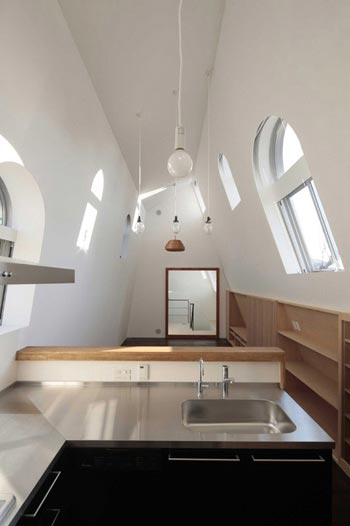 Third, the architects preserved most of the existing trees, allowing them to grow through some of these semi-circular openings in the roof. And fourth, the material of the roof is somehow very toyish – it is light grey by color and seems to be a kind of roof membrane by structure. Altogether, the unique design creates a bit of a Salvador-Dali look and is very spectacular and ironic indeed.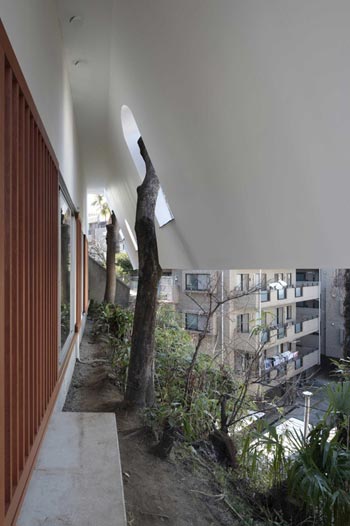 The planning structure of the house is also somewhat ironic. The kitchen and the living room are located on the higher level, the middle level is left as a big storage space and the ground floor includes the garage and bedroom.
The building area is 624 sq. ft., whereas the total floor area is almost 915 sq. ft. Whether the house is convenient to use is a good question, but that it is unique and interesting in both exterior and interior is a fact no one can deny.