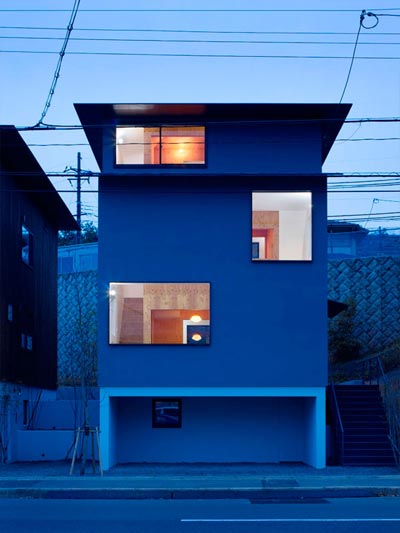 Sometimes restrictions lead to outstanding results! The Belly House, by Japanese architect Tomohiro Hata, brilliantly testifies to that. In Kyoto, Japan, there are several laws which restrict external volume, shape, materials and color. So actually when you think of it the exterior appearance of this house was already decided. A pre-defined 'package' works as a starting point to a marvelous architectural solution.
This modern small house has a total space of 123, 50 sq.m. in a construction area of only 43, 24 sq. m! A free-structure volume is inserted in the centre of the formal package, a three-storey wooden framework containing a dining/kitchen area, a child room and a bedroom.
Out of this ingenious operation results a double-height living room, a study room and also the space between the inner and outer walls. This kind of unique architecture depicting a 'box-within-a-box' creates an informal free space to live while climbing up and down around the formal package.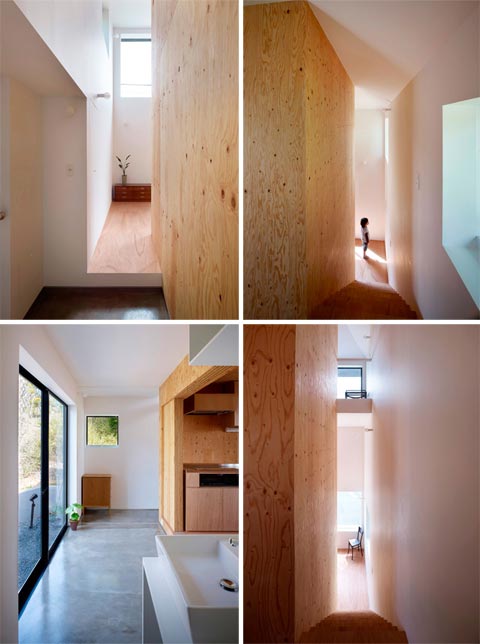 The access from the street defines a separation between private residential areas and office space. An outside staircase provides access to the house´s entrance and to the only terrace as well, all in the first floor. There´s even a parking space and a little home office on the ground floor, facing the street. Large windows illuminate the wooden heart that beats inside the predefined white body, bringing daylight to all the interior spaces. By night, these same windows reveal a glimpse of the joyful experience of living in this house.