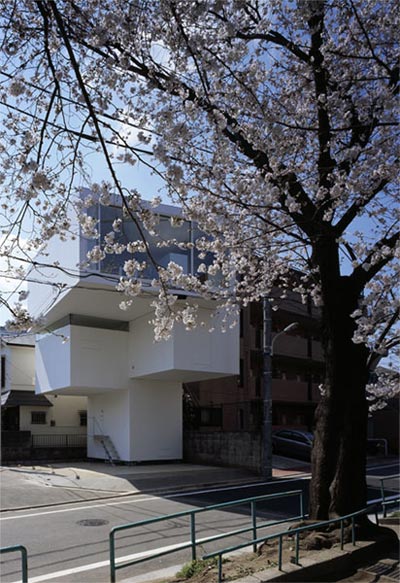 This small cube home is a tree-loving private residence. Why tree-loving? Because it doesn't want to interact with the street, it closes itself from the street; its simple geometric cube volumes on the lower levels are minimal, as if growing higher and higher, where finally opening up onto a large volume with a splendid window overlooking a blossoming cherry tree… Marvelous!!
The living space of the higher level is determined by a large glass wall and its surrounding view. The blossoming tree greets you from the other side of the street, however while sitting at the dining table and staring at the tree you don't realize there's a busy street down there. You become a dreamer, the tree invites you in… Well, at least I've just become a dreamer.. To put it short, you have what is called "psychologically healthy living conditions".
The section picture illustrates very well the concept of a "Tower" and of a space which unfolds only in higher levels. Practically, you just get through the lower levels in order to get to the living space upstairs.Because the tree and the table await…
The total floor area of the "cherry tower" is approximately 918 sq. ft., whereas the site is 765.6 sq. ft. big.