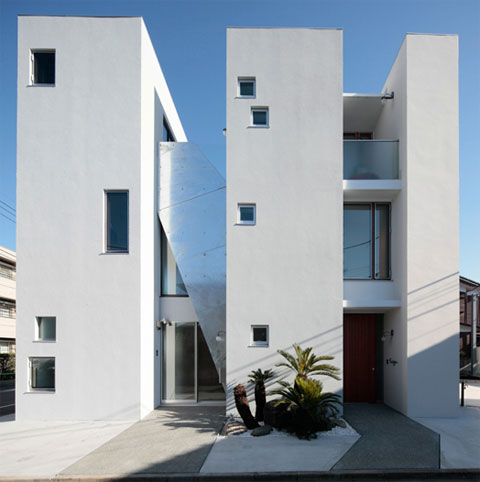 This house, located in Nerima, Japan, is like a summer breeze: fresh and playful. The main elevation is divided into three blocks. Set apart, each stripe of the building volume is gradually narrower than the previous. The voids between them are also filled with the building body that is set back by a certain depth and height.
There are also large openings – the main house entrance and a balcony – in these "further set" blocks. This distinguishes them even more so from the "stripes", which are solidly white, with playfully located windows.
The feeling of lightness and joy of the house's exterior is increased by the light-colored paving and a little island filled with exotic plants, which whimsically sticks to the middle of the elevation.
The interior design of the house is more colorfully resolved than the exterior. Various spaces are created to contrast each other: totally white rooms are adjacent to ones cladded with dark-wooden textured panels.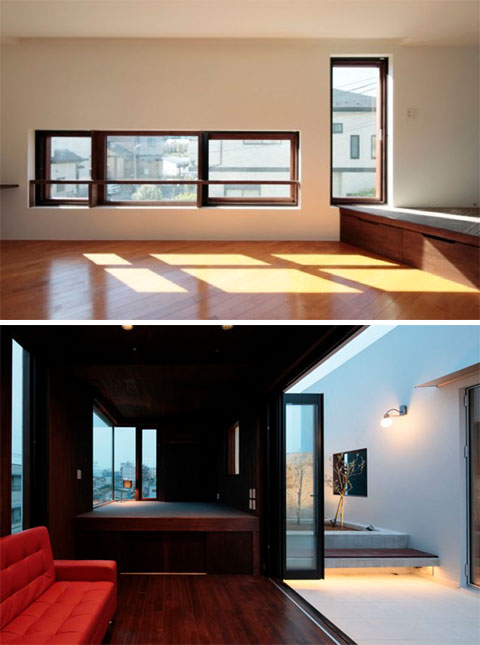 Although the mentioned dark wooden texture is a bit serious, some interior points are not less playful than the exterior facade. For example, the little decorative niches in the staircase wall (staircase being very white and light by construction of stairs and color of walls) are made vividly red! An explicit taste, both in interior and exterior design, couldn't leave me careless. I love this project.