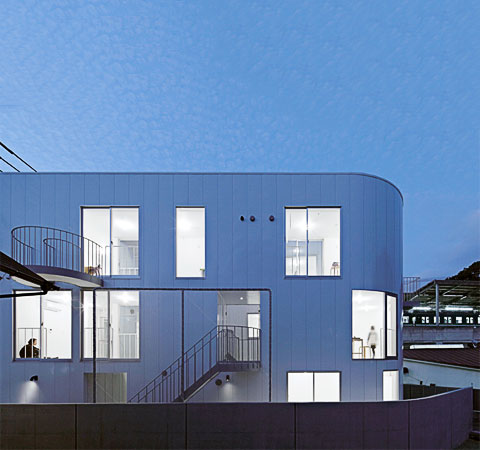 This is a call to all non-believers in minimal housing solutions… The D – Apartment in Osaka, Japan reveals how a tiny site can be occupied by a three-story building containing five apartments and even a small shop! Can you believe it? I´m talking about a construction area of 240 sq. m. magically converted into an exquisite floor design…
A rectangle with 2 x 16 meters is bended to fit in the 161 sq. m. area of the site. The volume folds around a narrow courtyard, while external staircases and balconies provide access to the several houses above.
The consequence is an interior space where none of the rooms have more than 2 meters wide! Isn't it simply brilliant? A small shop is placed on the ground floor, facing the street along with the main access to the collective housing. A passage to the courtyard provides connection to the first apartment while an external staircase invites us to the upper floors.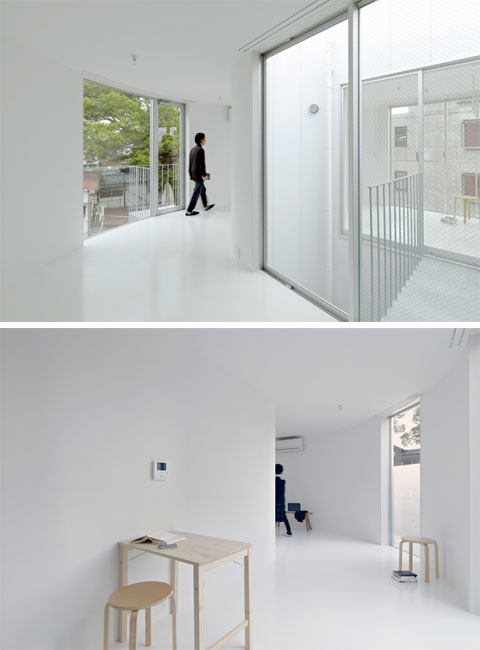 All remaining apartments share the same interior organization: entrance, corridor, kitchen and living room. An exterior wooden deck terrace separates the private areas (bedroom and bathroom) from social areas.
All interior surfaces are painted white enhancing all the natural light brought by aligned windows (symmetrical to room center line) for better interior ventilation. A peculiar detail is the dynamic journey through the open-air staircase that crosses this curvy block giving access to a communal roof terrace…Maybe a place to gather and enjoy a beautiful sunrise…