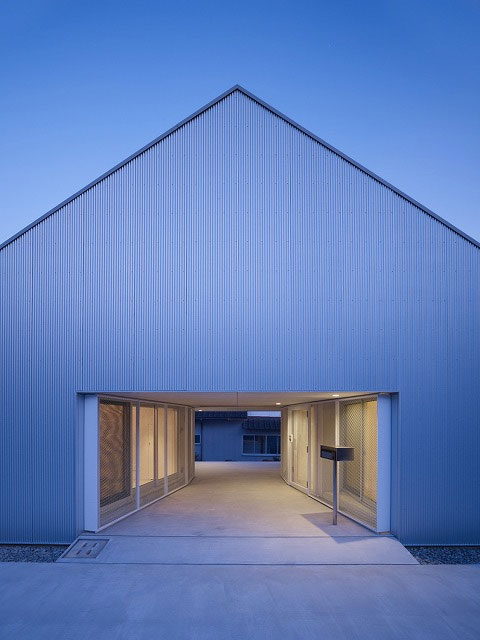 In Oita, Japan, a cloud has just landed safe and sound in a small residential suburb…Its bright metal appearance reinforces this romantic idea. This two-story building glows like a cloud on a sunny day between low houses and farmlands. It's like an angel on earth. So simple but yet so distinctive!
The volume of this "artificial cloud" respects the surrounding architecture in scale and form. A pitched roof establishes the crucial affinities while a bunch of skylights extruding out of its surface affirm its own identity. But the major differences are yet to come.
The ground floor of this modern Japanese home is composed by a covered space that works as the main entrance. A tunnel-like passageway is designed to obtain the required privacy from the outside views. The house's circulation is positioned at the center of the composition, reaching longitudinally one end to the opposite with a midway second-story landing.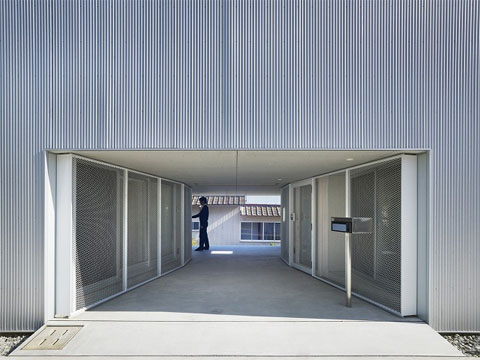 The private zones are concentrated on the ground floor while the social areas are placed on the upper level. The interior finishing maximizes the effect of the site's natural daylight, taking in sunlight from the roof and elevated windows. Wooden panels serve as the key material for walls and ceiling surfaces, contrasting with the exterior cladding in steel panels.
However, this shinning house has a curious detail: built-in shelving units run along one side of the stairs, transforming the circulation space into a library! Moreover, two large holes on the roof create outdoor terraces with views of the immediate surroundings – as if we were standing on a cloud!