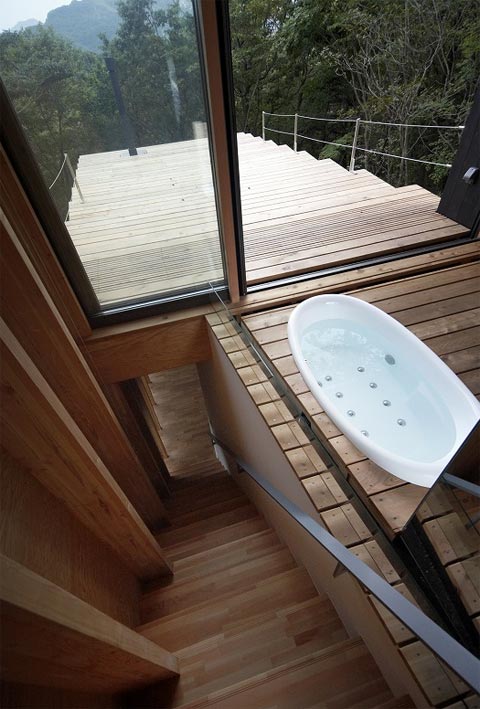 Some buildings are born to serve as a pure extension of its surrounding nature…In Karuizawa, Japan, an exceptional house claims all the attention for its intimate relation with the landscape. A national forest borders the property, which means it is unlikely to be hemmed in by neighbors in the near future. Before we get to the house itself, I just couldn't help myself – I mean, just look at that hot tub terrace view – Wow!
The house entrance is located at the street level while the rest of the composition carefully follows the slope of the hill. To enter this unique building you must pass through a metallic bridge leading to the front door. A sea of green embraces the volume in such an intense density that it seems almost like we are all floating in an ocean of nature!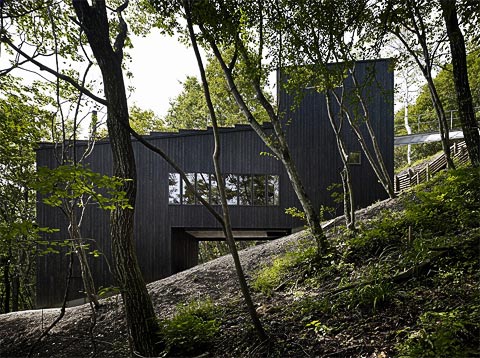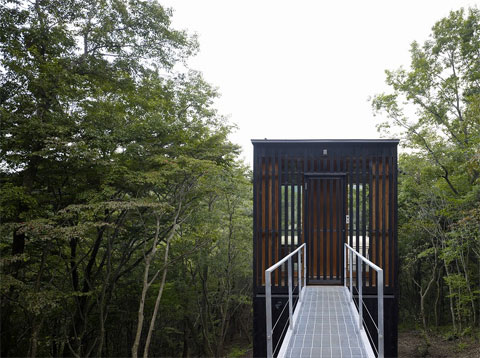 However, the black cladding wood of the façades distinguish the 'House at the Mountain' of its surrounding natural elements. Once inside the house, a staircase leads to the lower level where a generous open social area invites to stop and stare at the beautiful framed landscape. The atmosphere in this interior space is almost holy…
All finishing from structure to walls, floor and ceiling are made out of wood. It's so pure and natural that a spontaneous comfort is automatically activated in our body and soul. Private areas such as bedrooms and bathrooms are also at a lower level accessed through a gap on the main level.
A roof terrace extends the social area outside giving us the most amazing panorama over the adjacent national forests – gently swallowed by nature…