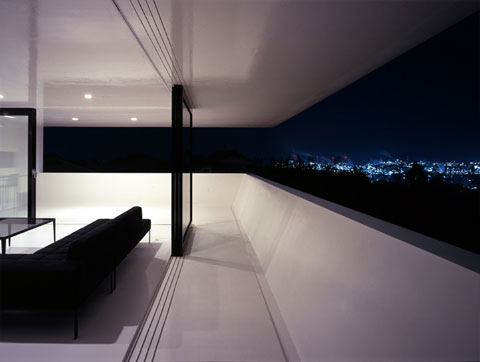 This unique, almost alien-looking house is located on a beautiful slope near the Kamei Park, in Hiroshima, Japan. The black body of this small, two-story private home (1,243 sq. ft.) looks very unusual and stimulates the imagination, mostlyl because of its bold structural system.
The bearing structural elements are concentrated at the back of the house and the slabs which go far forward are cantilevered. Such a structure (being of course extremely unusual for a small size house) made it possible to avoid all kinds of structural supports in the part of the building which overlooks the hill panorama.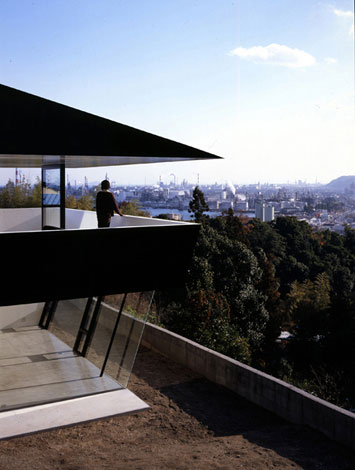 Moreover, almost all the walls in this house are made of glass. As a result, the house features a glass-protected void on the ground floor, the black stripe of the slab and the balcony rail, again the void of the terrace and the glazed living room and the roof volume, which dramatically and ironically ends up in a sharp cutting edge, above the terrace.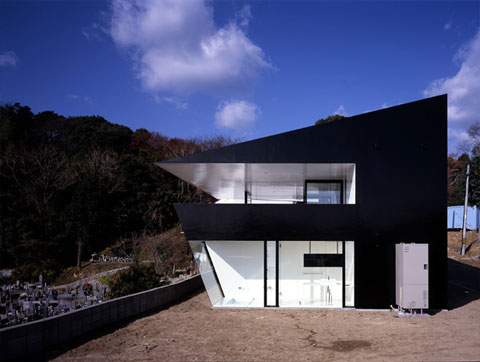 The ground floor contains four bedrooms (although the glazed space is very transformable and can be used as two bedrooms), being a quiet zone of the house, whereas an active entertaining area is brought up onto the first floor, offering breathtaking views from the terrace.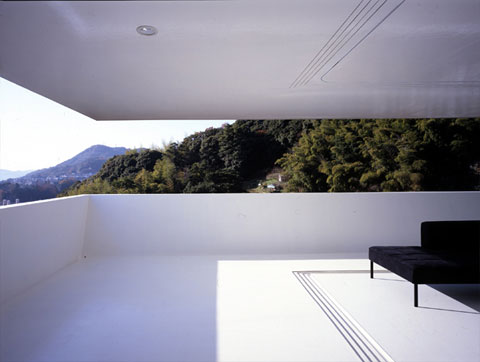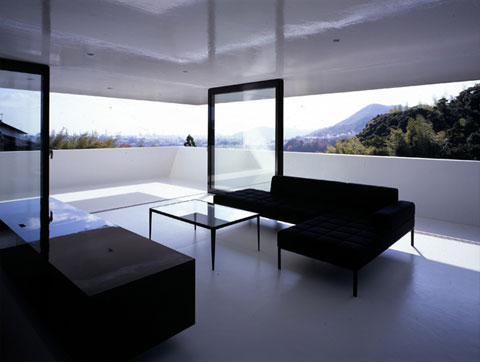 The living room resembles a peninsular, embraced by a generous terrace from three sides. Its glass sliding walls can be fully pulled aside so that you feel yourself in a huge open lounge zone.
On top of everything else, the whole interior space of the house is strictly designed in two colors – black and white, creating stylish minimalism chic.