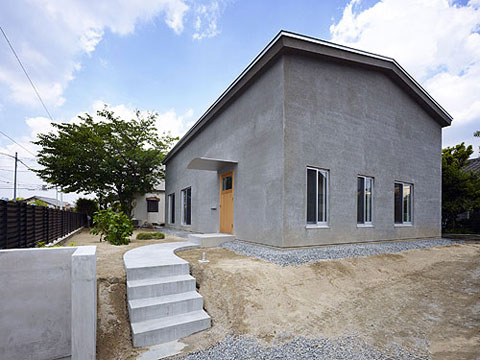 Imagine a house with perforated inner walls instead of conventional doors… In Amagi, Japan, a tiny house testifies the result of such an unusual concept! The challenge was direct and simple: a small residence for a family of three (only 82.81 sq .m. of building area) located in a plot full of fruit trees and a very special cherry tree. Nature plays a crucial role in the design of this home, creating the perfect balance between inside and outside spaces.
A concrete staircase firmly embedded in the existent garden guides our steps into the main entrance: a wooden door that punctuates colorfully the grey concrete volume. Once inside, a dynamic universe of perforated white walls set the mood for an avant-garde way of living… The program for this compact house is concentrated on the ground floor. The hierarchy for partitions is cleverly obtained by the size of the holes perforated in the walls! Just brilliant, don't you think?
The large rectangular openings frame views of adjacent rooms and also create space for small wooden shelves. Inhabitants step from one room to another through this kind of interior windows.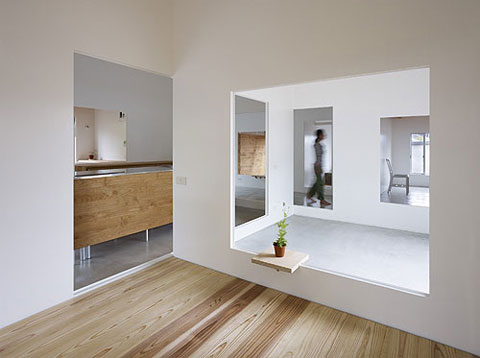 Smooth concrete covers the whole floor while the dining room benefits from the use of a wooden platform. All pieces of furniture respect this warm tone of wood giving the necessary comfort to the predominant white atmosphere. Rather than explore a traditional big opening to the landscape, this small house offers a pure introspective journey into the intimate life of a contemporary Japanese family…