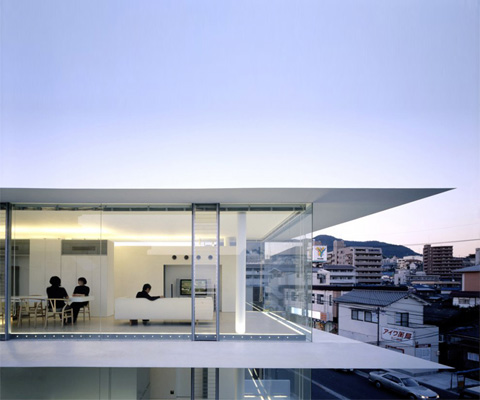 Architecture should always assume a positive and meaningful contribution in a chaotic suburban context…In Hiroshima, Japan, a special building brought some light and bliss to a similar situation! The M Clinic is an eye clinic and its function is deliberately illustrated to the outside. With a building area of 191 sq. m. distributed in three floors, this exceptional construction assumes a visual landmark for the area with a prominent exterior appearance consisting of three angular overhangs.
Also transparency plays a vital role in this pure relation between form and function! The building is composed by a transparent volume that contains the reception, a guest lodge and the waiting room. The floor-to-ceiling glazed facades offer unrestrained views of the city, creating a comfortable and illuminated atmosphere for the sensitive practice of repairing vision.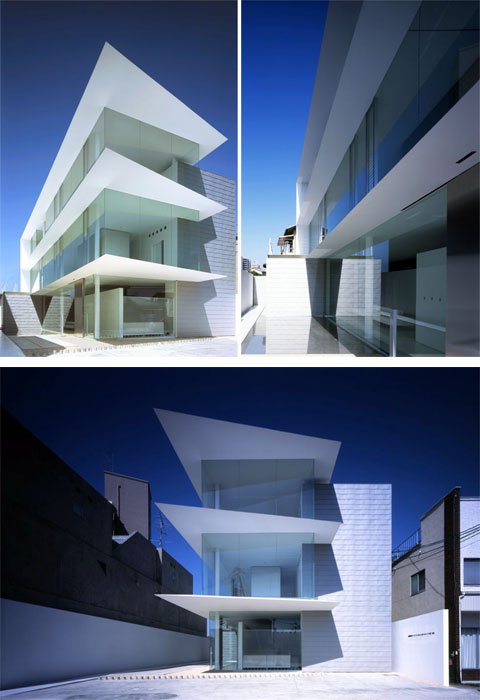 A solid volume contiguous to the glass box houses the service operation rooms. Clad in silver sheet metal boards, the interior program obtains the necessary privacy from the street's traffic. A balanced relation is carefully developed between these two different volumes: open and closed areas are physically related to opaque or transparent facades.
However, a very special detail turns this building even brighter: all finishing materials invoke the immaculate condition of serenity…White color rules in every direction, from pavement to ceiling. Even the spiral steel staircase respects this clever solution…By night, the building turns into a poetic lantern: an affirmative and healing architectural statement in a "myopic" suburban context!