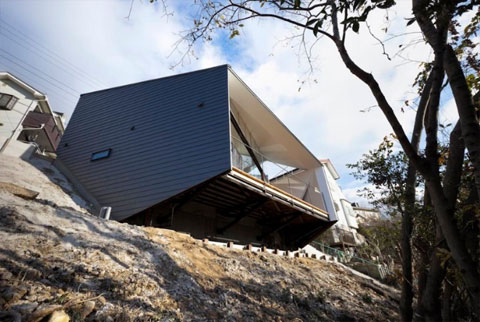 Sometimes the most challenging sites turn to be the most fertile ground for outstanding projects. The K House in Nagoya, Japan, is a fine example of how this kind of circumstances become the starting point of unexpected architectural statements!
A small house is located on a steep slanting slope. A peculiar topography established the concept to solve the client's desire to live close to nature overlooking the distant town scape. Like hanging on a cliff, this modern tiny home has only 89 sq. m. of building area cleverly positioned on a very sloped site. Its shape kind of reminds us of a star ship…
However, dont let its suspended appearance fool you, the house is in fact firmly rooted to the ground, like a habitat generated by the natural form of the cliff.
The distribution of the program follows the idea of a "cavern": there's no significant interior partition between spaces (except the bathroom and bedroom areas). All social areas are visual and physically connected creating an open atmosphere that offers a special flexibility of use.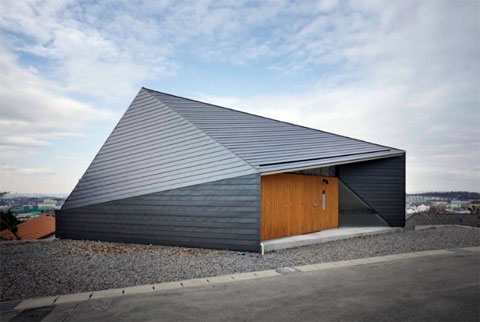 The access to the house is positioned in the upper level: a wooden wall secretly hides the front door. A metallic skin involves the whole volume: facades and pitched roof respond to the same constructive principle. Once inside a staircase guides our steps to the lower level where the entire house program is concentrated.
A large black deck in the entrance level offers a unique sight over the white painted social space, a mezzanine area available for any kind of activity. While having breakfast or dinner, inhabitants can enjoy an amazing skyline view in the generous terrace that silently calls for human company…