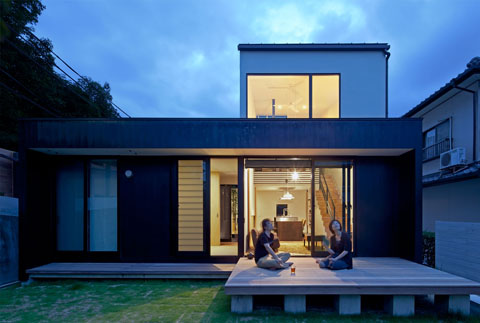 In Ikoma City, Japan, prefabricated architecture shows once again all its value and quality. The modern Niu House proudly arises between traditional Japanese style homes. This two story building (with a total floor area of 76 sq.m.) is all about innovation and originality…Let's take a trip together through this exceptional tiny house where Small is definitely turned into the new Big!
Two different volumes toned in black and white define the internal functions: social areas are "dressed" in white (open kitchen, living, dining area and loft) while the private rooms are "wearing" black (bathroom, utility room, soundproof studio and bedroom).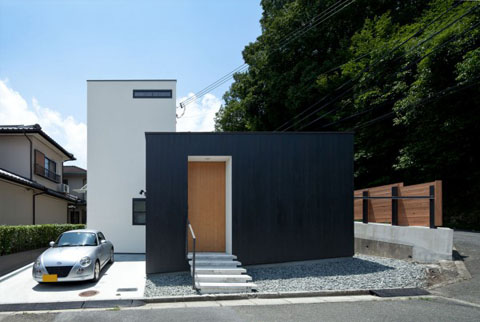 Here, white means a double story block and black signifies a single level box. The composition of the plan suggests a delicate "hug" between the white "tower" and the black box! In fact, a rectangular patio results from this conceptual configuration… a void between the two halves of the plan form a small courtyard to allow wind and light to enter while offering a view from the kitchen.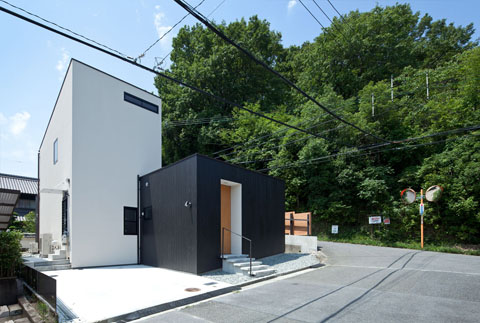 A parking space is placed before the entrance area carefully defined by a concrete staircase. The main facade barely has any kind of windows… all the openings aim to the interior of the site preserving the required privacy of the inhabitants.
From the outside, dark wooden slabs clad the Black volume while the White "tower" is covered in stucco. Inside, white is used for walls and ceilings contrasting with the wooden pavements that expand into a large terrace in the living area… A green garden gives a splash of color and joy to this inhabitable black and white composition.