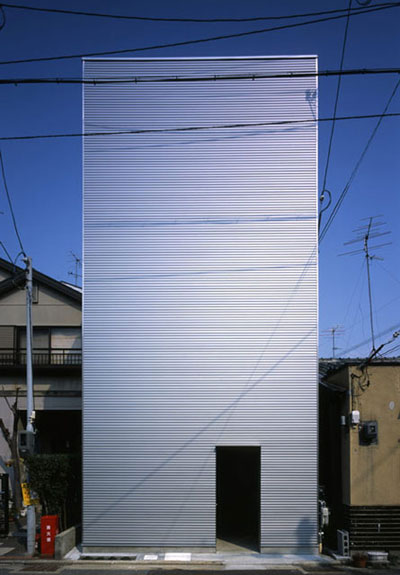 In Kyoto, Japan, a little tower is proudly shinning in its suburban surrounding… I'm talking about the W Window House, a three story building with a tall silhouette that has a total floor area of 72 sq. m. However, the most outstanding detail of this small narrow house is the improbable balance that was created between this shimmering steel building and its lower vernacular neighbors.
The first visual impact begins in the main facade facing the street: a blind metallic wall, only interrupted by the glazed front door, stirs our curiosity! But nothing could anticipate the dynamic interiors that wait to be discovered.
Inside this vertical house are three split-level floors, all connected by paper-like metallic stairs with black and white surfaces. The interior space is always open, only divided by furniture except for the bathroom where walls are used.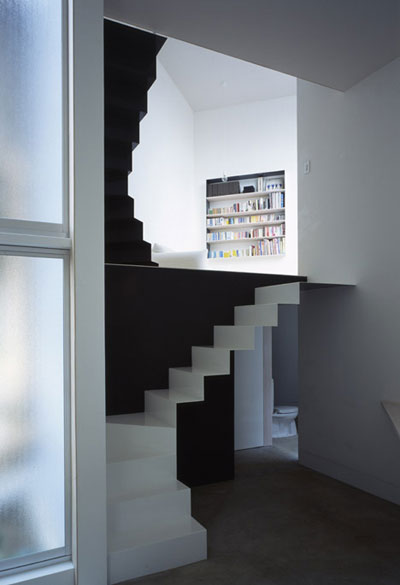 The ground floor is reserved for the service program (dining, kitchen and bathroom) while the following level is exclusively destined to the living room. Two bedrooms are distributed in the remaining levels turning this domestic tower into a magical mystery.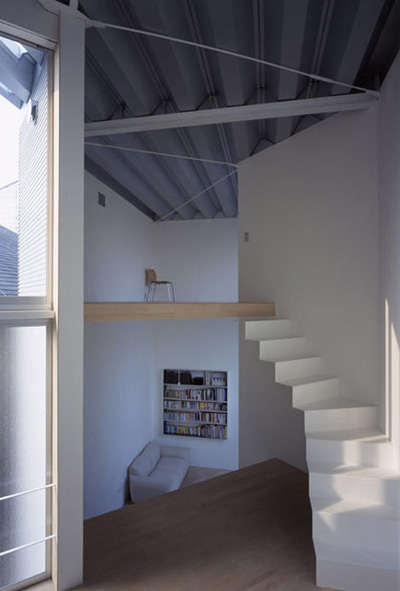 The apparent blindness of the building is resolved with triangular cuts inflected on two opposite sides of the building, where all the windows are lined up on top of one another.
This particular solution allows a more intimate interior environment plus the necessary daylight and ventilation to create the perfect home.
Steel is the main character here: from the structure to the surface, all is deliberately apparent and naked – Only the black and white staircases along with the wooden pavement gently interrupt the supremacy of prefab universal language…