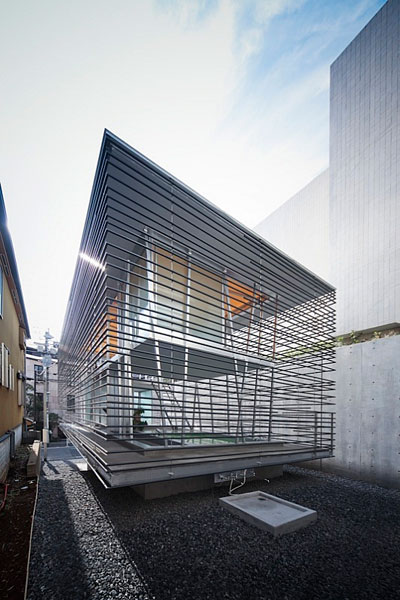 I would describe this house as a separate flat, taken out of a residential house and set separately as an independent unit. The apartment is located on an extremely limited site and is itself extremely small. However, it allows you to perceive this house as something airy, and the reason for the unusual exterior of the house!
The little building block is developed as a 3-leveled structure, the lowest level being smaller than the upper ones and made of concrete. The 2 upper levels hang over the first one with their balcony and their second – "pipes"-skin!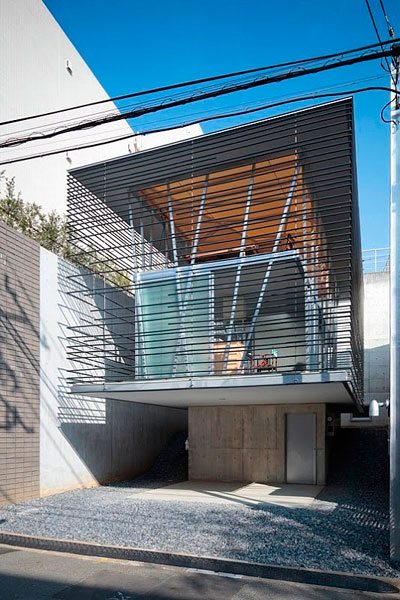 The matter is that the transparent double elevation, which consists of tender horizontal pipes, is installed in front of the glass 2 and 3 levels' facades. This see-through skin not only hides visually the first and the second floor from a passer-by's eye, but also gives a house this feeling of space, which – in the condition of limited site – is marvelous indeed.
Almost all of the living spaces, situated on the first and the second floors, are exposed through the glazed facades and through the steel-tubes screen. The small bathroom is hidden on the ground floor, behind solid concrete walls. The bedroom is situated in a small annex. Slim steel structure together with the totally glazed elevations of the second and third floors make the interior space look a little bit like a studio, but this gives it this special young and creative steel-concrete atmosphere, doesn't it?