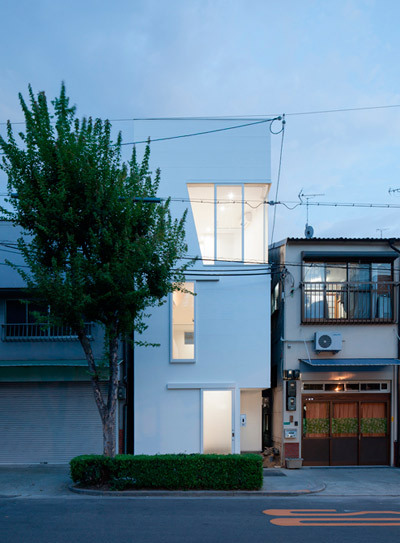 In Osaka, Japan there's a narrow house that captures our attention with its singular bright appearance… Built for a family of four (parents + two kids) in a very tight urban site, this three-story building replaces an old residence suffocated by the lack of natural light due to its closeness to the surrounding buildings.
House in Tamatsu has 33sq.m. of building area and presents a unique program distribution that responds to the particular client's lifestyle.
Just check the following order of spaces and functions: the couple's bedroom and all service areas are positioned in the ground floor; the first floor is composed by the social areas such as kitchen, living and dining room while the children's rooms are placed on the second floor. Also a magnificent terrace is available to all on the roof level.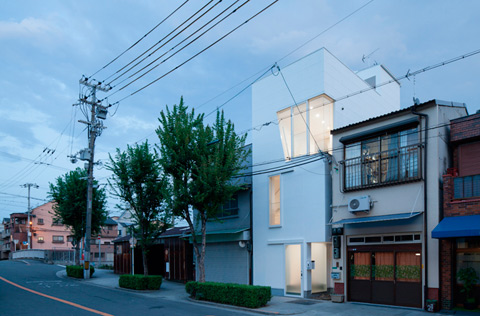 As mentioned at the beginning of this post, bringing natural light into this small family home was imperative. To achieve this goal, the entire second floor has been rotated 14 degrees, positioning a pair of rooms towards a large corner window. The rotation also generates voids above the staircases, which allow a generous stream of light to penetrate from the roof down to the lower floors.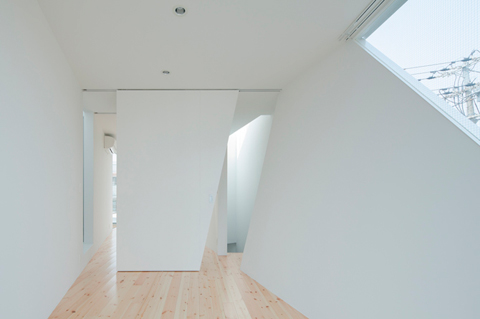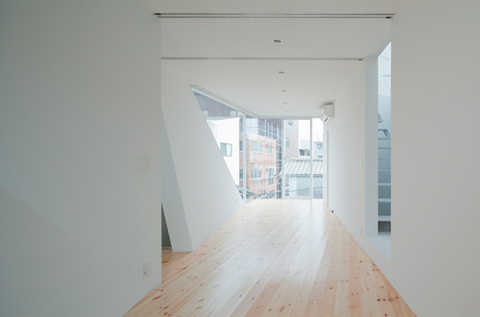 Angular white boxes reinforce the sense of light radiation creating sets of steps that softly appear to float upwards. White cladding is used for all the surfaces except for pavements where wood seems to be chosen for its organic qualities…A warm natural tone emphasizes the comfort that lies inside a narrow white house, full of light and life, that continuously waits for the sun to come.